Solid Carbide Drill is suited for HRSA machining.
Press Release Summary: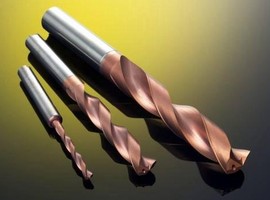 Engineered for aerospace and industrial gas turbine applications, CoroDrill Delta-C R846 features positive-tip geometry that maintains consistent curve along cutting edge, distributing cutting forces throughout body, resulting in minimum deflection and burr formation. Deep flute design optimizes chip removal, ensuring quick evacuation from cutting zone. Available in 3-12 mm dia range, bronze PVD-coated drill handles maximum hole depths of up to 5 x dia.
---
Original Press Release:

Sandvik Coromant Releases CoroDrill Delta-C R846 for HRSA Machining



Fair Lawn, New Jersey, January 29, 2008 - Sandvik Coromant has announced the release of the CoroDrill Delta-C R846, a solid carbide drill specifically designed to maximize performance in aerospace and industrial gas turbine applications. The new tool provides increased accuracy, extended tool life and improved productivity in HRSA machining.

The CoroDrill Delta-C R846 features a new positive-tip geometry that maintains a more consistent curve along the cutting edge. This distributes cutting forces throughout the body, enabling longer tool life and resulting in minimum deflection and burr formation. The tool also possesses added strength on the outer diameter corners, where cutting forces are strongest in demanding applications.

A deeper flute design on this new Delta-C's body optimizes chip removal, ensuring quick evacuation from the cutting zone. By operating free from obstruction, the tool retains the closest possible tolerance and produces high surface finishes. The accuracy and quality capabilities of the tool make it ideal for aerospace engine and gas turbine applications, where high tolerances are a requirement.

To counter tool wear, the Delta-C R846 uses an innovative bronze PVD coating. The coating's layered structure protects the substrate and offers increased toughness and wear resistance. This is especially valuable in demanding materials such as Inconel and other Ni-based alloys.

The CoroDrill Delta-C R846 is available in diameters ranging from 3 mm to 12 mm and handles maximum hole depths of up to five times the tool's diameter.

About Sandvik Coromant

As the world-leading supplier of high quality cutting tools, Sandvik Coromant provided US customers with over $70 million in documented cost savings in 2007. The company measures its success through its ability to provide customers with their share of the $15 billion in savings that American manufacturing could achieve by maximizing tool performance.

For more information on philosophies, products and services, contact
Sandvik Coromant Company
1702 Nevins Road
Fair Lawn, NJ, 07410
phone 201.794.5223
fax 201.794.5217
or
visit http://www.coromant.sandvik.com/us.

Bjorn Roodzant
201.794.5223

More from Controls & Controllers