Solid-Carbide Drill cuts through CFRP-titanium stacks.
Press Release Summary: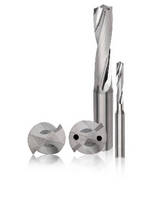 Operating with through-coolant or without, B55_DAL drills CFRP-metal stacks in hole diameters of 3/16–5/8 in. Double-angle point design provides optimized centering, while sharp edge cleanly cuts composite fiber-reinforced polymers in top layer and exits titanium or aluminum side without burrs. For optimized chip evacuation, fine-grain solid-carbide Beyond™ KN15™ grade is highly polished. Drill can be applied in all combinations of stacks: CFRP-Ti-Al, CFRP-Ti, CFRP-Al, and straight Ti or Al.
---
Original Press Release:

New Solid-Carbide Drill from Kennametal for CFRP/Titanium-Stack



Geometry maximizes performance, minimizes burrs and delamination



New stack drill from Kennametal for aerospace composite/titanium stacks can operate with through-coolant or without for superior chip evacuation.



Kennametal is introducing its all-new B55_DAL Drill for drilling CFRP-metal stacks in hole diameter ranges of 3/16–5/8" (4.763–15.875mm). The drill can be applied in all combinations of stacks: CFRP-Ti-Al as well as CFRP-Ti, CFRP-Al, and also straight Ti or Al. These drills can operate with standard through coolant, MQL, or even dry.



New materials are demanding new solutions. To maximize strength and minimize weight, the aerospace industry continues to research using stacks of composite fiber-reinforced polymers (CFRP) sandwiched between titanium or other materials. This provides essential performance at reduced weight for wings, fuselages, cockpits, and many other components. Due to the substantially different mechanical properties of carbon fibers and metals, drilling fastener holes efficiently challenges cutting tools by requiring high wear resistance and optimum tool geometries. Keeping holes high-quality and burr-free is critical.



The new B55_DAL drill's double-angle point design provides excellent centering capability and the sharp edge to cleanly cut CFRPs in the top layer of stacks and cleanly exit the titanium or aluminum side without burrs. The fine-grain solid-carbide Beyond™ KN15™ grade is highly polished for superior chip evacuation even with MQL or dry operation.



A broad range of diameters and length variations are available to accommodate all holemaking operations, even those using robots or automated drilling units. In addition, the new stack drills can be reground to original process specifications, making these new tools even more cost-efficient.



For more information, visit www.kennametal.com.



Kennametal

Celebrating its 75th year as an industrial technology leader, Kennametal Inc. delivers productivity to customers seeking peak performance in demanding environments. The company provides innovative wear-resistant products, application engineering and services backed by advanced material science, serving customers in 60 countries across diverse sectors of aerospace, earthworks, energy, industrial production, transportation and infrastructure. With approximately 14,000 employees and nearly $3 billion in sales, the company realizes half of its revenue from outside North America, and 40% globally from innovations introduced in the past five years. Recognized among the »World´s Most Ethical Companies» (Ethisphere); »Outstanding Corporate Innovator» (Product Development Management Association); and "America's Safest Companies" (EHS Today) with a focus on 100% safety, Kennametal and its foundation invest in technical education, industrial technologies and material science to deliver the promise of progress and economic prosperity to people everywhere. For more information, visit the company´s website at www.kennametal.com.



Kennametal Shared Services GmbH

Wehlauer Strasse 73

D-90766 Fuerth

Carsten Gromoll

Phone: +49 911 9735 557

Fax: +49 911 9735 551

carsten.gromoll@kennametal.com

More from Machinery & Machining Tools