Solenoid Valve closes without differential pressure.
Press Release Summary: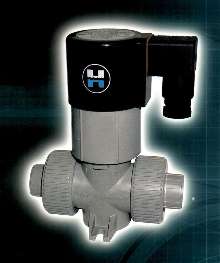 Corrosion-resistant, all plastic valve can be left in open position indefinitely or cycled continuously with no damage to coil. Coil rectifies ac current to dc current, allowing it to be rated for 100% continuous duty applications. Molded polyester housing, resistant to harsh corrosive environments, encapsulates coil assembly and electronics. Valve is offered in sizes for 1/4 to 1 in. pipelines, in PVC or CPVC construction, and with choice of Viton® or EPDM seals.
---
Original Press Release:
New Solenoid Valve Requires No Differential Pressure to Close

Hayward's new corrosion-resistant, all-plastic solenoid valve line features a unique design that permits the valves to close regardless of the differential pressure across them. Ordinary solenoid valves often require pressure differentials of up to 25 psi to operate effectively. Now, designers of systems requiring an instant on/off, corrosion-resistant or non-contaminating solenoid valve can choose a valve that offers much more system design flexibility.

The Hayward solenoid valves feature an innovative coil that rectifies AC current to DC current. This results in a very low coil operating temperature, than would be otherwise possible, and allows the coil to be rated for 100% continuous duty applications. This means that the valve can be left in the open position indefinitely or it can be cycled continuously with no damage to the coil. The powerful coil assembly and electronics are completely encapsulated in a molded polyester housing, resistant to the harsh corrosive environments to which these valve are often exposed.

Should the valve's seals need replacing, this is now a quick and easy process. The seals are contained in a unique cartridge which contains new seals and a plunger assembly. Simply replace the cartridge assembly and the valve is ready for service. Downtime is reduced dramatically and there is no fumbling with small parts and o-rings.

All Hayward solenoid valves feature a true union design. With this design the valve body can be easily removed from the pipeline without having to disconnect any piping connections. Just unscrew the two valve assembly nuts and lift the valve body out of the pipeline...the operation takes only seconds.

The valves are available in sizes for 1/4" to 1" pipelines in PVC or CPVC construction with a choice of Viton® or EPDM seals. All sizes are offered with socket or threaded end connections for convenient installation.

For more information, contact Don Treslar, Hayward Industrial Products, Inc., 900 Fairmount Ave., Elizabeth, NJ 07207. Phone: (908) 351-5400, ext. 2213. Fax: (908) 351-7893. E-mail: industrial©hayward-net.com. Website: www.haywardindustrial.com.