Solenoid-Driven FL 10 Diaphragm Pump is IP65 rated.
Press Release Summary: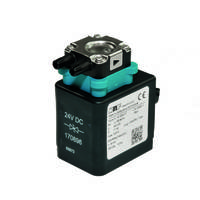 Solenoid-Driven FL 10 Diaphragm Pump utilizes spring tension in the linear solenoid drive. Unit is integrated with frequency-controlled drive which adjust the flow rate linearly. Product delivers 0 - 100 mL/min against atmospheric pressure and provides a maintenance-free lifetime of 10,000h. Diaphragm Pump can be operated up to 14.5 psig and is suitable for wet or dusty areas. FL 10 comes with check valve function in off-mode and laser-welded head parts.
---
Original Press Release:
KNF Launches New Flow-Tight, Solenoid-Driven Liquid Transfer Pump with Calibrated Pump-to-Pump Repeatability
KNF has introduced a new solenoid-driven FL 10 diaphragm pump for OEM customers. With a nominal liquid flow rate of 100 mL/min, FL 10 features bi-directional flow-tightness without additional check valves, IP 65 protection, simple linear flow rate adjustment, a maintenance-free expected lifetime of 10,000h, and other key cost-saving attributes.
The FL 10 pump uses spring tension in the linear solenoid drive to keep it flow-tight in both directions when turned off, making additional check valves unnecessary and helping to reduce costs. Built for operation in demanding environments such as wet or dusty areas, the pump's IP 65 protection class reduces the need for additional protection in the customer's system. Furthermore, sealing between the pump housing and the linear drive ensures fail-safe operation, so that in case of a ruptured diaphragm, liquid is kept away from other areas of the system. Laser-welded head parts keep the pump leak-free.
Flow rate adjustment during the assembly process at KNF ensures high repeatability from pump to pump, thus saving calibration time when the pump is built into the customer's system. The pump's frequency-controlled drive also allows OEMs to quickly and linearly adjust the flow rate. This makes it easier integrate the pump into dynamic liquid circuits in OEM devices, helping to reduce lengthy testing and improve time to market.
Using KNF's pioneering diaphragm technology, liquid is transported gently, making KNF pumps a good choice for handling sensitive fluids. Furthermore, there are no wear particles, unlike, for example, with gear pumps. Chemically-resistant flow path materials are used in FL 10, ensuring reliable transportation of a wide range of aggressive media. In contrast to peristaltic pumps, FL 10 does not need routine tubing exchanges. Combined with KNF's long-lasting linear solenoid drive technology, this results in maintenance-free pumps over an expected lifetime of 10,000h (>250 million operations), saving on servicing costs and ensuring higher end-user satisfaction.
FL 10 delivers 0 - 100 mL/min against atmospheric pressure and can be operated to 14.5 psig (1 bar). Applicable markets include cleaning and disinfection, inkjet printing, laboratory automation, medical diagnostics, and water analysis.
To learn more, visit www.knfusa.com/fl10.
Features and benefits
Check valve function in off-mode, eliminating uncontrolled flow and backflow
Operates in difficult environments
Leakage-free head parts
Simple, linear flow rate adjustment for rapid testing and integration
Fail-safe operation due to sealing between pump housing and linear drive
Diaphragm technology for clean, gentle transportation of sensitive liquids
Chemically resistant options available
Expected maintenance-free lifetime of 10,000h
Offers solid cost-saving potential
Engineered value worldwide
KNF Neuberger is a leading manufacturer of gas and liquid diaphragm pumps and systems for OEM, benchtop laboratory, and process use. Typical application tasks include liquid and gas transfer, chamber evacuation, liquid metering/dosing, washing, waste handling, recirculation, aspiration, vacuum roughing/backing, pneumatics, and degassing. Built upon a foundation of engineer-to-engineer collaboration, KNF combines technical expertise and manufacturing leadership to address application-specific challenges for an ever-growing list of markets that includes medical device and diagnostics, environmental/industrial hygiene, laboratory equipment, reprographics, security and defense, semiconductor, energy, various process industries, and more. Individually-tailored pump projects are encouraged. KNF is comprised of 16 companies with five production facilities around the world, including the U.S.
Contact:
KNF Neuberger, Inc.
Two Black Forest Road
Trenton, NJ 08691