Soldering System can desolder components from PCBs.
Press Release Summary: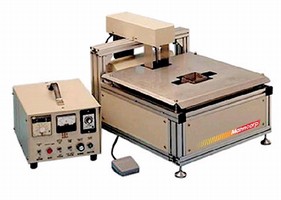 Offering adjustable temperature range to 399°C, multi-purpose, mini wave System 120 is designed for single-point or single-edge soldering and removal of ICs, including DIPs, QFPs, PGAs, connectors, and odd forms. When wave is activated, Z-motion immersion takes place with nozzle encapsulating component and dwell time governed by foot switch. Bench-top unit is suited for lead-free or tin/lead processing, and short runs requiring selective soldering.
---
Original Press Release:

'Mini Wave' Performs Specialized Soldering; Also Desolders Components from PCBs



A multi-purposed mini wave system with numerous specialized soldering and desoldering capabilities is now available from Manncorp.

System 120 is a compact, bench-top version of large wave solder systems, but is designed for single-point or single-edge soldering, removal of ICs, including DIPs, QFPs, PGAs, connectors and odd forms. Ideal for short runs requiring selective soldering of single components, the 120's adjustable temperature range to 399ºC is suited for either lead-free or tin/lead processing.

When the wave is activated, Z-motion immersion takes place with the nozzle encapsulating the component and dwell time governed by foot switch. Component removal occurs when solder bonds are melted, permitting extraction of the device from the PCB. Component replacement follows a similar sequence. After prefluxing, the nozzle housing the device is soldered by the wave without endangering other components. Three processing nozzles are included, with many more available for other devices. System 120 is Internet-priced at $6,995. For details, access manncorp.com/specialty-soldering-equipment/120-mini-wave-soldering-machine/

More from HVAC