Soldering Station precisely handles difficult solder joints.
Press Release Summary: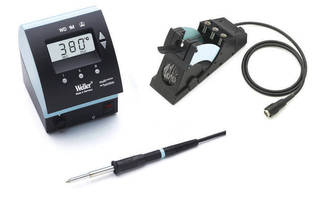 Weller® WD1000HPT includes WP120 soldering iron with compact heating element with replaceable soldering tip, and microprocessor-controlled WD1M power unit with built-in functions for use in production, rework, and laboratory environments. Iron set-backs for time and temperature can be programmed and are activated when soldering iron is placed into WDH10T safety rest. When iron is removed from rest, tip temperature is restored immediately to set working level.
---
Original Press Release:

New Weller® Soldering Station Perfect for High-Energy, Maximum-Precision Applications



Apex, NC - December 8, 2008 - Cooper Tools announces the availability of the Weller WD1000HPT soldering station, specifically designed for soldering operations requiring a combination of high energy and maximum precision. The WD1000HPT consists of three separate components, including the WP120 soldering iron, WD1M power unit, and the WDH10T safety rest.

The WP120 soldering iron combines a compact, powerful heating element with a replaceable soldering tip, guaranteeing dynamic performance. Rapid transfer of heat into the soldering tip is quickly and precisely controlled with sophisticated electronics which allow the WP120's compact design to handle big and difficult solder joints.

The WD1M power unit is a microprocessor-controlled device with a number of built-in special functions, making it ideally suited for use in production, rework, and laboratory environments. All WD1M units produced since April 2008 are supplied with new advanced software specifically designed for the WP120 iron.

Using the special menu on the WD1M power unit, iron set-backs for both time and temperature can be programmed and are automatically activated when the soldering iron is placed into the WDH10T safety rest. When the iron is removed from the rest, tip temperature is restored immediately to the set working level.

"As components decrease in size and PCBs become more densely packed, the soldering and rework processes are more challenging," said Glenn Schindo, Director of Marketing and Sales at Cooper Tools. "Cooper Tools is proud to offer the WD1000HPT soldering system, which can provide maximum precision even during the most challenging jobs."

The iron is ideal for soldering on difficult circuit boards with heat sinks that cause dissipation and heat transfer. Target applications include high-density circuit boards, High Frequency/Radio Frequency applications and solar panel production.

About Cooper Tools
With administrative offices in Apex, North Carolina and Lexington, South Carolina, Cooper Tools serves a multitude of global markets, including automotive, aerospace, consumer, electronic, energy, MRO, and utilities. Through the proper application of its many well-known brands of specialized industrial power tools, hand tools, chain, and electronic soldering products, Cooper Tools provides meaningful productivity gains to its customers worldwide. Cooper Tools operates 51 manufacturing and sales/service facilities, located in the Americas, Europe, and the Asia Pacific region, and has over 5,500 employees. It is a division of Cooper Industries, LLC.

For more information, visit www.coopertools.com.

About Cooper Industries
Cooper Industries, Ltd. (NYSE: CBE) is a global manufacturer with 2007 revenues of $5.9 billion, approximately 87% of which are from electrical products. Founded in 1833, Cooper's sustained level of success is attributable to a constant focus on innovation, evolving business practices while maintaining the highest ethical standards, and meeting customer needs. The Company has eight operating divisions with leading market share positions and world-class products and brands including: Bussmann electrical and electronic fuses; Crouse-Hinds and CEAG explosion-proof electrical equipment; Halo and Metalux lighting fixtures; and Kyle and McGraw-Edison power systems products. With this broad range of products, Cooper is uniquely positioned for several long-term growth trends including the global infrastructure build-out, the need to improve the reliability and productivity of the electric grid, the demand for higher energy-efficient products and the need for improved electrical safety. Sixty percent of total sales are to customers in the Industrial and Utility end-markets and 34% of total sales are currently to customers outside the United States. Cooper, which has more than 31,500 employees and manufacturing facilities in 23 countries, is incorporated in Bermuda with administrative headquarters in Houston, TX.

For more information, visit the website at www.cooperindustries.com.