Soldering Station is designed for Pb-free processes.
Press Release Summary: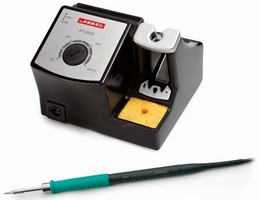 With up to 140 W of power, BT 8808 promotes throughput while working at lower temperatures. This fosters solder joint reliability and eliminates cold joint issues. For optimal thermal recovery times, station uses microprocessor-driven JBC Advanced Technology.
---
Original Press Release:

JBC Tools USA, Inc. Announces the Release of the BT 8808



July 7, 2008. Saint Louis, MO. JBC Tools USA, Inc. announces the release of the BT 8808, a new low cost, high performance soldering station for lead free processes. Using the well known microprocessor driven JBC Advanced Technology which provides the fastest thermal recovery in the market, the BT has up to 140W of power allowing for higher throughputs while working at lower temperatures, which in turn, provides better solder joint reliability and removes cold joint issues.

"This new station priced around $300 dollars will for the first time allow most end users to be able to use a high end soldering station at a fraction of the cost without sacrificing performance" Said JBC's general manager, Amadeo Isart.

When asked about JBC's higher tip costs, Mr. Isart commented: "Consumable costs will always be an issue in a manufacturing environment. Although our tips last 2 to 5 times longer and reduce costly quality issues making them rather affordable, JBC has made major improvements in our tip manufacturing process, allowing us to reduce their price to the $18 to $20 price range in the most popular models".

JBC, the worldwide leader in hand soldering and desoldering tools, is an R&D driven company and a pioneer in manufacturing the finest manual soldering, desoldering and rework equipment.

For additional information, visit our website www.jbctools.com or call 1-866-429-5753.

More from Mechanical Components and Assemblies