Solder Reflow Oven features dual-lane, dual-speed design.
Press Release Summary: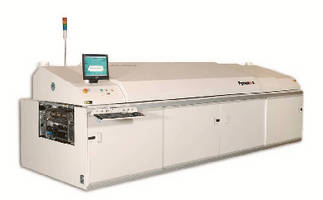 PYRAMAX(TM) features High Efficiency flux management system, which collects flux residue by processing oven atmosphere from multiple extraction points through series of heat exchangers, ensuring clean operation. Dual-lane design doubles throughput of oven by allowing 2 boards to be run simultaneously in parallel, with identical or near identical boards. With ability to adjust one lane while other lane continues production, WINCON 5.0 control software offers true dual process capability.
---
Original Press Release:

BTU International to Highlight New PYRAMAX Capabilities at NEPCON South China 2012



NORTH BILLERICA, Mass., - BTU International, Inc., a leading supplier of advanced thermal processing equipment for the alternative energy and electronics manufacturing markets, will highlight new High Efficiency (HE) flux management and dual-lane, dual-speed capabilities of its PYRAMAX(TM) solder reflow system, as well as the latest WINCON(TM)5.0 control software in booth #1J10 at the NEPCON South China 2012. The electronics manufacturing showcase event is scheduled to take place August 28-30, 2012, at the Shenzhen Convention & Exhibition Center, China.

PYRAMAX reflow ovens set the industry standard for thermal performance, providing electronics manufacturers with the highest throughput to compete successfully in today's challenging marketplace. The HE flux management system incorporates a new design that ensures clean oven operation that further extends the maintenance cycle. The HE flux management system collects flux residue by processing oven atmosphere from multiple extraction points through a series of heat exchangers. To reduce downtime, the HE flux management system is designed to allow service while the oven is in production (true on-the-fly maintenance).

Dual-lane reflow ovens are now being used to double throughput in a single reflow oven by allowing two boards to be run at the same time in parallel, with identical or nearly identical boards. By using dual-speed, it is possible to achieve independent thermal profiles and run boards with significant differences, simultaneously, adding further flexibility to the already doubled throughput. The newly-launched WINCON 5.0 control system software offers true dual process capability with the ability to adjust one lane while the other lane continues production.

For more information on the new PYRAMAX features meet company representatives at NEPCON South China 2012 or visit www.btu.com.

About BTU International

BTU International is a global supplier and technology leader of advanced thermal processing equipment and processes to the alternative energy and electronics manufacturing markets. BTU equipment is used in solar cell, nuclear fuel and fuel cell manufacturing as well as in the production of printed circuit board assemblies and semiconductor packaging. BTU has operations in North Billerica, Massachusetts and Shanghai, China with direct sales and service in the U.S.A., Asia and Europe. Information about BTU International is available at www.btu.com.

Company Contact:

Jim Griffin

Vice President Sales and Service

BTU International, Inc.

Phone: (978) 667-4111

More from Transportation Industry Products