Solder Paste remains soft and pliable.
Press Release Summary: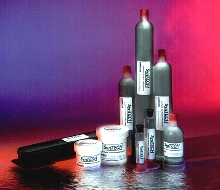 SynTECH(TM) no-clean solder paste is made with synthetic poly adducts and yields reliable solder joints in SMT PC board assemblies. It offers wide process windows with 12 to 18 hr stencil life and 18 to 24 hr tack time. Paste leaves non-conductive, non-corrosive post reflow residue, which acts as protective coating. SynTECH requires no refrigeration. It is suitable for in-circuit testing of fine pitch solder joints.
---
Original Press Release:

AMTECH Drives Down the Cost of Manufacturing with SynTECH(TM), the World's First Synthetic No-Clean Solder Paste


Branford, CT - AMTECH Inc., a leading supplier of solder powders, pastes, fluxes and associated products used in electronic assemblies, has just unveiled SynTECH(TM), the world's first no-clean solder paste made with synthetic poly adducts.

SynTECH synthetic no-clean solder paste yields reliable solder joints in SMT PC board assemblies, offering the following productivity-enhancing benefits:

o higher throughput with less scrap and rework
o synthetic, not organic, for unparalleled lot-to lot and stencil printing consistency
o wider process windows (12-18 hour stencil life, 18-24 hour tack time)
o no refrigeration needed
o ICT friendly, and compatible with organic solderability preservatives (OSPs)

According to Leigh Gesick, VP Operations for AMTECH, "Initial feedback from field tests using SynTECH synthetic
no-clean solder paste has been extremely positive. One contract manufacturer reported a 300% increase in throughput with
virtually no scrap. SynTECH's synthetic components allow significantly higher processing speeds due to superior stencil
printing characteristics."

In order to form a high quality solder joint, the solder paste must reach the reflow temperature uniformly to avoid solder balling, which is more easily accomplished by synthetic materials. SynTECH offers superior performance characteristics,
including ideal viscosity, grain size and particle sphericity. SynTECH solder paste also leaves a non-conductive, non-corrosive,
post reflow residue which acts as a protective coating.

With up to 18 hours of stencil life, PC board assemblers can change shifts or experience brief periods of downtime without SynTECH solder paste drying out or absorbing moisture. Unlike organic solder pastes, SynTECH requires no refrigeration.

SynTECH is ideal for in-circuit testing (ICT) of fine pitch solder joints. Its unique formula remains soft and pliable,
not gummy or brittle, enabling test probes to pass through flux into the solder joint without clogging up the probe. In addition,
SynTECH offers improved compatibility with OSP's compared to previous no-clean formulas. It also works with all no-lead
formulations, including tin/silver/copper alloys, without compromising SIR values.

AMTECH offers new SynTECH synthetic solder paste in jars, cartridges, syringes and cassettes. AMTECH Inc. is an ISO-9002 certified supplier of advanced SMT solder pastes and companion products for the board assembly market, including liquid fluxes, bar solder, core wire, and assorted wipes and cleaners. AMTECH is known worldwide for product innovation and quality, competitive prices, excellent customer service and 24/7 technical support.

For technical specs and full test reports on SynTECH synthetic no-clean solder paste, contact: AMTECH, 75 Schoolground Road, Branford, CT 06405 (800) 435-0317 (203) 481-0362 Fax: (203) 481-5033 e-mail: smt@amtechinc.com website: www.solderproducts.com


More from HVAC