Solar Roadway Lighting at the US EPA Facility in Raleigh, NC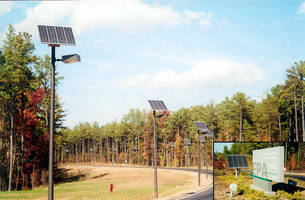 The US EPA Facility in Raleigh, NC Research Triangle Park installed 68 solar roadway lighting (http://www.sepco-solarlighting.com/projects/solar-street-lighting/) systems in 2001 along with two solar sign lighting (http://www.sepco-solarlighting.com/projects/solar-sign-lighting/) systems. Most press releases and project articles happen when the installation occurs, although a new and developing technology, there has been some longer well established projects proving the longevity cost savings, and impact the technology can offer as we progress forward. This project showcases reliability, performance, and overall cost effectiveness of commercial solar roadway lights.

The EPA worked with the local power company on a lease-purchase arrangement for the 70 solar lighting systems along the site roadways. This was one of the largest solar roadway lighting projects in the US at the time. The power company was able to take advantage of the 35% tax credit from the State of North Carolina for the solar power equipment which reduced the system cost making it cost-justifiable.

The roadway to the EPA was lit with solar shoebox lighting (http://www.sepco-solarlighting.com/overhead-solar-lighting/) systems and includes a mile of photovoltaic powered street lights that light the road from dusk to dawn. Chris Long, the EPA's Project Manager commented, "We're extremely pleased with the installation. We're committed to using cost-effective technologies that reduce our air pollution impact, and this project speaks volumes about our commitment to clean, renewable energy." This project also won the IESNA Award and has provided the EPA 10 years of reliability and quality lighting with little maintenance.

The project was initiated by the EPA's Green Lights program. The program helped transform the market for energy efficient electronic fluorescent ballasts concluded a study by Marvin J. Horowitz. His findings were published in The Energy Journal (http://www.rff.org/rff/documents/rff-dp-04-05.pdf). The Alliance to Save Energy also completed a report called Economic Indicators of Market Transformation: Energy Efficient Lighting and EPA's Green Lights that can be downloaded from the Alliance to Save Energy (http://www.ase.org/) website.

As an industry pioneer and leader for over two decades, SEPCO's off grid solar power systems (ideal for low power applications like SCADA, WI-FI, security cameras..) and high performance solar power lighting systems (ideal for roadway, parking lot, perimeter security, bus shelter, sign lighting...) feature rugged commercial-grade construction combined with unparalleled quality, performance, reliability and the value of 25 year system life expectancy-all backed by the best warranty in the business. Please visit our web site www.sepco-solarlighting.com for more information.

More from Architectural & Civil Engineering Products