Solar Powered Lighted House Number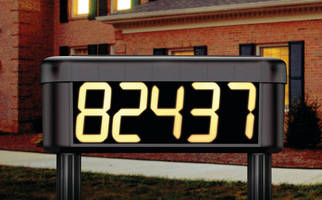 When time is of importance, help police, fire or an ambulance find your address quickly and easily with the STI Solar Powered Lighted House Number. The large, bright numbers are easy to read from far way, making it simple to find an address on dark nights. It also helps increase the speed and accuracy of deliveries.

The energy-efficient solar panel converts ordinary daylight into power keeping the Lighted House Number (STI-30325) illuminated all night long. It has a long lasting LED light and is weatherproof.

It offers user-selectable numbers up to five digits. The easy to install unit has two mounting options: installation on the front lawn with mounting stakes or to the front of a building. Modern design compliments any style of architecture or landscaping.

For more information on STI Lighted House Number (STI-30325), or the entire Stopper® Line, call 800-888-4784, fax 248-673-1246, email info@sti-usa.com or visit www.sti-usa.com. STI's address is: 2306 Airport Road, Waterford, MI 48327-1209.


More from Electrical Equipment & Systems