Solar Power Meter serves residential plant applications.
Press Release Summary: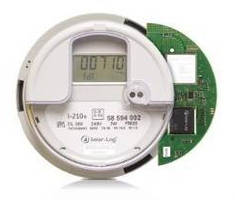 Solar-Log® 350 & GE Meter, comprised of General Electric I-210+ residential meter and Solar-Log technology, puts itself in service automatically after being plugged into any standard socket meter base. Solar-Log technology monitors and logs incoming data from solar array with revenue-grade precision required to collect state/utility incentives. Solution communicates with servers and online applications via 3G cellular modem and comes with 5 years of cellular data and Solar-Log WEB services.
---
Original Press Release:

New Solar-Log® & GE Meter Ready for the US Solar Market



An easy to install, all-inclusive, cost effective device for residential installations.



BETHEL, Conn. -- After a highly successful introduction, Solar Data Systems, Inc. will launch the Solar-Log 350 & GE Meter at the upcoming Solar Power International Tradeshow on October 20-23 in Las Vegas, Nevada. This first of a new series, is specially designed for the residential PV market and is engineered for simple installation. The compact design consists of a General Electric I-210+ residential meter and Solar-Log's proven technology which provides cellular data access and PV monitoring services. The Solar-Log 350 & GE Meter puts itself in service automatically after being plugged in to any standard socket meter base, thus making the traditional complex and time consuming LAN and inverter connectivity obsolete.



The built-in Solar-Log(®) technology monitors and logs incoming data from the solar array with revenue-grade precision required to collect state and utility incentives, including performance-based incentives (PBIs), solar renewable energy certificates (SRECs), and many other financial incentive programs.



"Our goal for the new Solar-Log 350 & GE Meter was to provide a monitoring device that works with all residential plants, is very easy to install, needs no onsite configuration and comes with 5 years of cellular data and Solar-Log(®) WEB services included - all at a price that is reasonable." says Anton Kaeslin, President of Solar Data Systems. "We achieved our goal and made no compromises in applying our proven Solar-Log(®) technology. The Solar-Log 350 & GE Meter assures maximized PV plant performance as well as provides revenue-grade reporting in an all-inclusive package."



The Solar-Log 350 & GE Meter communicates with servers and online applications via 3G cellular modem. No on-site configuration is necessary, all functions can be re-configured and monitored remotely. This comprehensive package includes cellular data and Solar-Log(®) WEB monitoring services for 5 years. The Solar-Log(®) WEB online monitoring application includes an appealing Dashboard to present plant performance data graphically and numerically. In addition the popular Apps for iPhone and Android devices enable convenient plant monitoring on the go.



The Solar-Log 350 & GE Meter is compatible with any microinverters and string inverters.



Solar Data Systems will demonstrate the new Solar-Log 350 & GE Meter at the Solar Power International tradeshow in booth 1557 on October 20-23 in Las Vegas, Nevada. Shipments to distributors and installers will begin this December.



About Solar Data Systems, Inc.

Solar Data Systems, Inc. is the maker of Solar-Log(®), a web-enabled monitoring system for photovoltaic plants. Based in Bethel, Connecticut, Solar Data Systems helps plant owners, installers and renewable finance companies maximize their PV plant's performance. Key functions of the Solar-Log(®) product family include, visibility of the plant's production and conditions, real-time detection of issues, immediate alerts, comprehensive failure logs and revenue-grade metering for incentive reporting. Solar-Log(®) currently monitors an ever-growing number of 233,000 plants globally, with over 979,000 connected inverters, amounting to over 6.8 GW of power output. Solar Data Systems is a division of Solare Datensysteme GmbH, which is headquartered in Binsdorf, Germany.



CONTACT:

Megan McSherry

Solar Data Systems, Inc.

203-702-7189

north-america@solar-log.com

www.solar-log.net

More from Architectural & Civil Engineering Products