Solar Power Inverter complies with UL standards.
Press Release Summary: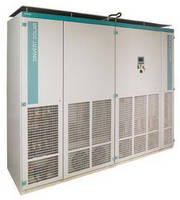 Designed to meet UL standards required by utilities in North America to feed solar power into grid, Sinvert PVS350T UL also meets DIN, VDE, IEC, and EN international standards. This 350 kW solar inverter, intended for photovoltaic (PV) fields with 600 Vdc input, takes energy gathered by solar panels and converts it into AC power. Under-over-voltage control, under-over-frequency control, open phase control, grid synchronization, and anti-islanding protection features are standard.
---
Original Press Release:

Siemens Introduces UL Compliant Sinvert Solar Inverter



ATLANTA - Siemens Industry, Inc. announced today at Solar Power International in Anaheim, Calif., the introduction of the UL compliant Sinvert PVS350T UL. Built on the internationally proven Sinvert platform, this inverter was designed to meet UL standards required by utilities in North America to feed solar power into the grid. In addition to complying with UL standards, this inverter from Siemens meets international standards: DIN, VDE, IEC, EN.

The Sinvert PVS350T UL is a 350kW solar inverter for photovoltaic (PV) fields with 600 VDC input. It takes the energy gathered by the solar panels from the sun and converts it into AC power that provides electricity for industrial and residential consumers. Its application software and firmware are UL 1998 listed. The inverter will be certified to UL 1741, CSA 107.1 and CEC standards and features: under-over-voltage control, under-over-frequency control, open phase control, grid synchronization and anti-islanding protection, which detects and isolates the system from grid failure under matched load conditions.

"Siemens is one of the pioneers in the field of photovoltaics with more than 40 years of experience in planning, building and maintaining photovoltaic power systems for a wide array of applications," said Richard Thomas, Director, Clean Technology & Renewable Energy, Siemens Industry, Inc. "Through the introduction of our UL compliant inverter, we are reaffirming our commitment to our extensive customer base by making this proven, sustainable technology available in the North American market."

Built in accordance with a stringent ISO 9001 quality system, the inverter has been optimized for high efficiency and has a compact design and footprint that facilitates easy installation. Architecturally, three inputs with LV HRC fuses and DC contactors are provided at the PV field end, a combination that can be used to isolate the inverter from the PV field. Additionally, the IGBT-based power unit coupled with a low-voltage transformer provides galvanic isolation between the PV field and AC output, which prevents unwanted current from traveling between units sharing a ground conductor. Additionally, it increases safety by preventing accidental current from reaching the ground. Separately, a contactor and discrete circuit breaker can be used to disconnect the unit from the grid. Overvoltage protection devices are installed at the AC output and DC inputs.

Additional new features include cluster control, optional PV array isolation measurement and optional symmetry monitoring. With the cluster control operation up to four inverters can be interconnected at a common DC bus to increase efficiency, reduce light-load losses and enhance system reliability. The PV array isolation measurement detects faults in the PV array much earlier than existing ground fault detection techniques. With the symmetry monitoring option, the current of each DC input is monitored separately and analyzed over a long time period to allow for detection of power losses due to defective PV panels.

For more information on the UL compliant Sinvert PVS350T UL visit:
http://www.siemens.com/sinvert.

About Siemens:
Siemens Industry, Inc. (SII) is the U.S. affiliate of Siemens' global Industry Sector business-the world's leading supplier of production, transportation and building technology solutions. The company's integrated hardware and software technologies enable comprehensive industry-specific solutions for industrial and infrastructure providers to increase their productivity, sustainability and profitability. The Industry Sector includes six divisions: Building Technologies, Industry Automation, Industry Solutions, Mobility, Drive Technologies and OSRAM SYLVANIA. With nearly 222,000 Siemens Industry Sector employees worldwide, the Industry Sector posted a worldwide profit of $5.82 billion on revenues of $57 billion in fiscal 2008. http://www.usa.siemens.com/Industry

A division of Siemens Industry, Inc. (SII), the Industry Automation (IA) Division is a global leader in the fields of automation systems, low-voltage switchgear and industrial software. IA's portfolio ranges from standard products for the manufacturing and process industries to enterprise-wide automation solutions for automobile production facilities and chemical plants. As a leading software supplier, IA optimizes the entire value chain of manufacturers - from product design and development to production, sales, as well as a wide range of maintenance services. With nearly 43,000 employees worldwide, Industry Automation earned $13.1 billion in sales in fiscal year 2008. http://www.usa.siemens.com/automation

© Siemens Industry, Inc. 2009 - last update 2009-11-03 - Webmaster - Terms and Conditions

More from Software