Solar Panel Rail offers single tool installation.
Press Release Summary: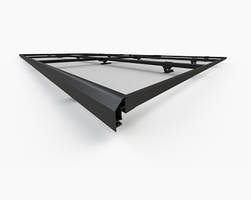 Available in portrait and landscape orientation, SUNFRAME MICRORAIL offers structural front Trimrail™ with module mounting for quick array alignment, post-install height adjustment, and ability to remove single panels for array maintenance. MLPE mount with Enphase Engage wire clip simplifies cable management.
---
Original Press Release:
Unirac, Inc. to Unveil SUNFRAME MICRORAIL at the 2016 Solar Power International Trade Show
ALBUQUERQUE, N.M., -- Unirac, Inc., a leading manufacturer in the solar industry, provides innovative solutions for PV racking. Unirac is excited to unveil the SUNFRAME MICRORAIL (SFM) system. SFM has been brought to market through a collaboration with industry leading installers, and is field tested and verified. Key innovative features include structural front Trimrail™, post-install height adjustment, single module access, and single tool installation.

SUNFRAME MICRORAIL brings LESS RAIL, MORE PERFORMANCE through:

Mixed Arrays - Portrait & Landscape Orientation
Compact packaging with few SKUs lowers logistics costs from the warehouse to the roof
Single Tool Installation
Quick & Easy Array Alignment with Structural Front Trimrail
Level Modules Anytime During Installation
Remove Single Panels for Array Maintenance
Available MLPE Mount with Enphase Engage wire clip simplifies cable management

"SUNFRAME MICRORAIL is launching with best-in-class features, designed through installer feedback and collaboration. We aim to commercialize products engineered with excellence in PV innovation and design. We have a vision and plan for the future to ensure our product rises to the top of the market and continues to meet the needs of our customers through ongoing enhancements," states December Cowen, Director of Product Management for Unirac, Inc.

SFM is supported by Unirac's technology leadership through U-Builder. Features include:

Module Level Roof Zone Control / Specify Individual Module Preferences
Generate Layouts with Staggered Arrays / Multiple Arrays per Report
Create Row by Row Mixed Arrays with Modules in Portrait and Landscape Orientation
Identify Rafter Locations for Fewest Roof Penetrations
Optimize System Loading with Staggered Roof Attachments
Permitting is made easy with Unirac's UL2703 certified documents, stamped PE letters, and AHJ outreach program. The learning curve with SFM is minimized through Unirac's onsite product training.

About Unirac:
Unirac provides innovative solutions for PV racking. Recognized for our excellence in product development, Unirac develops progressive residential, commercial and utility scale mounting solutions tailored for performance. Our high quality, competitively priced products are enhanced by responsive customer support, integrated technology solutions, robust engineering services, certified quality, and supply chain excellence. With over 15 years of customer service, Unirac is fast approaching 5GW of experience with more than 500,000 installations worth of knowledge. Partnering with Unirac leverages experience that makes a difference. For more information, visit www.unirac.com.

Media Contact:  Charles Lubecke
Marketing Manager
Unirac, Inc.
1411 Broadway Boulevard NE
Albuquerque, NM 87102
T: 505-242-2167
E: charleslubecke@unirac.com

Video - http://origin-qps.onstreammedia.com/origin/multivu_archive/PRNA/ENR/0-SFM-PRODUCT-OVERVIEW.mp4
More from Fluid & Gas Flow Equipment