SolaHD™ SDN2X Redundancy Modules feature MOSFET design.
Press Release Summary: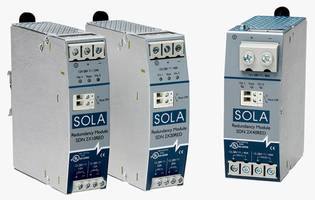 SolaHD™ SDN2X Redundancy Modules are used to monitor two power supplies which are connected in parallel. Units are UL, CSA, CE, ATEX, IECEx and ExEAC certified and are available in three sizes. Products are suitable for petrochemical and gas facilities, industrial manufacturing, machine tools and waste water treatment center applications. These modules support redundancy between two 12VDC or two 24VDC power supplies and offer diagnostics via three bi-color LEDs.
---
Original Press Release:
Emerson SolaHD Redundancy Modules Protect Against Critical Power Failures in Harsh Industrial Systems
Emerson today launched an innovative new line of power supply redundancy modules delivering more operational reliability than competitors' modules, and ensuring additional protection against critical power failures in hazardous locations and harsh industrial environments.
Emerson SolaHD™ SDN2X redundancy modules continuously monitor two power supplies connected in parallel. In the event one power supply fails, the SDN2X automatically changes over to the second power supply, eliminating the potential for single power supply failure causing an unexpected shutdown resulting in costly system downtime. Because the power supplies are decoupled via the module, the operating power supply doesn't feed into the failed power supply.
"SDN2X redundancy modules provide more extensive features and certifications than any existing redundancy models, at the same price, and in a smaller package," said Patrick Murphy, Product Manager, Emerson Automation Solutions. "Since the modules work well with combinations of SolaHD SDN-C, SDN-P and SVL power supplies, as well as many competitors' power supplies, it's easy for customers to transition to the new modules for improved protection."
INDUSTRIAL DESIGN
SolaHD SDN2X redundancy modules incorporate a MOSFET design which generates less heat than diode-based redundancy modules. Less heat translates to longer life of the components housed in the same enclosure as the power supply.
In addition, their compact design saves valuable panel space. Extensive international certifications, including UL, CSA, CE, ATEX, IECEx, ExEAC, ABS, and DNV-GL, ensure the modules operate with 100 percent reliability in harsh environments, hazardous locations and marine applications. They provide an added level of protection for systems found in petrochemical and gas facilities, industrial manufacturing, machine tools, wastewater treatment centers and power generation plants.
SolaHD SDN2X redundancy modules feature powerful diagnostics via three bi-color LEDs, while a relay output provides power output status information to a PLC or other control equipment.
MULTIPLE MODELS
Three sizes of SDN2X redundancy modules are available. Each module supports redundancy between two 12VDC or two 24VDC power supplies. Each of the two connected power supplies can have a capacity of up to 10A (SDN2X10RED), 20A (SDN2X20RED), or 40A (SDN2X40RED).
For more information, visit: www.emerson.com
About Emerson
Emerson (NYSE: EMR), headquartered in St. Louis, Missouri (USA), is a global technology and engineering company providing innovative solutions for customers in industrial, commercial, and residential markets. Our Emerson Automation Solutions business helps process, hybrid, and discrete manufacturers maximize production, protect personnel and the environment while optimizing their energy and operating costs. Our Emerson Commercial & Residential Solutions business helps ensure human comfort and health, protect food quality and safety, advance energy efficiency, and create sustainable infrastructure. For more information visit Emerson.com.
Related