Software Tools facilitate checkweighing.
Press Release Summary: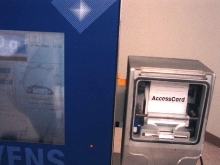 ReAct provides remote access to data stored within checkweighers, eliminating need to be physically present in production area. Data can be uploaded via Ethernet connection from MS Windows-based PC. LogInServer provides data needed for compliance with government regulatory mandates. Personalized and traceable log tracks user activities on system-wide basis. AccessCard offers single or 2-stage security system at weighing terminal.
---
Original Press Release:
New Tools for GARVENS Checkweighers: Enhance Security, Facilitate Record-Keeping, Speed Access to Data

Applications: Products requiring checkweighing in the automotive, pharmaceutical, cosmetic, consumer care, and food industries, and especially those products that must meet regulatory Food & Drug Administration requirements

GARVENS' new software functions -- the ReAct, LogIn Server, and
AccessCard -- offer technologically advanced features for GARVENS checkweighers that can simplify record-keeping, bolster security, and streamline compliance with regulatory requirements. These software tools, to be demonstrated at Garvens' Pack Expo booth E-6376, enhance quality control for pharmaceutical, food, cosmetic, beverage, transport, logistics, automotive, consumer care, and non-food industries, and particularly those products that must comply with Food & Drug Administration standards. Garvens will also showcase the IP65 water-ingress-protection capability of its model E3 checkweigher, offering a cost effective alternative to the S Series models.

GARVENS ReAct (Remote Access Tool) provides easy remote access to data stored within GARVENS checkweighers, eliminating the need to be physically present in the production area. Using familiar screen layouts, ReAct allows authorized personnel to access and upload required legal and production data via an Ethernet connection from an MS Windows-based PC. Files can be copied into popular spreadsheet programs and edited. Article data can be downloaded back to the checkweigher. A password scheme allows specific levels of program access to be assigned to individual users.

GARVENS LogInServer provides the data needed for compliance with government regulatory mandates, such as FDA recording requirements like those in effect for 21CFR Part 11 Compliance. The LogIn Server helps food and drug manufacturers enhance their product quality and safety with a monitoring system that records all instances of checkweigher access. The personalized and traceable log tracks user activities on a system-wide basis, including date, time, and machine accessed. The log-in program also preserves data integrity through the inclusion of user-specific access restrictions. All information recorded can then be manipulated and analyzed in standard Windows-based PC programs.

For optimum control over checkweigher access, the GARVENS AccessCard offers an easily-established single or two-stage security system at the weighing terminal. Stage 1 consists of individual, personalized AccessCards with user name and allocated access permit level. Stage 2 adds a required PIN number to verify use authorization. The AccessCard is 100% compatible with the hardware of the PrintCard systems available with GARVENS checkweighers.

At PackExpo International Booth E-6376 Garvens USA will demonstrate the IP65 water-ingress-protection capability of its model E3 checkweigher by duplicating wash-down conditions in an enclosed acrylic shower booth. The E3 is an economical checkweigher that incorporates modular concepts and state-of-the-art dynamic weighing technology. A complete range of dynamic checkweighers will also be operational at the Pack Expo booth.

Garvens USA, based in Pine Brook, NJ, is the direct subsidiary of Garvens Automation GmbH. Garvens is globally recognized as a leading manufacturer of checkweighers for the pharmaceutical, food, cosmetic, beverage, transport, logistics, automotive, consumer care, and non-food industries, and is known worldwide for providing highly sensitive measurement devices using state-of-the-art electronics solutions.

For More Information, contact:

Michaela Preiss, Marketing

Garvens USA

19 A Chapin Road

P.O. Box 2033

Pine Brook, NJ USA 07058-2033

Tel. (973) 276-1093

Fax (973) 276-1094

e-mail InfoRequest@Garvens-USA.com

Internet: www.garvens.com
More from Electronic Components & Devices