Software supports Lean Manufacturing.
Press Release Summary: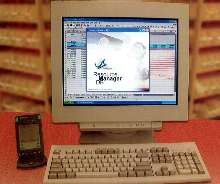 Resource Manager-DB(TM) for Lean Manufacturing utilizes Microsoft Office-centric design to enable flexible manufacturing planning, scheduling, and tracking. No-rules design adapts to how customers are currently working, facilitating implementation and ease of maintenance. In addition to MRP and Shop Management functions, system includes paperless material requisition/procurement system, Bar Coded system, and email Purchase Order.
---
Original Press Release:

User Solutions, Inc. Announces Resource Manager - DB for Lean Manufacturing


February 25, 2003: South Lyon, MI: User Solutions, Inc., has announced immediate availability of Resource Manager-DB(TM) for Lean Manufacturing. With a unique Microsoft Office-centric design, Resource Manager-DB enables a best of breed approach by adding powerful and flexible manufacturing planning, scheduling, and tracking features to any system. The intuitive "no-rules" design easily adapts to how customers are working now, facilitating quick implementation and easy maintenance. Now, in addition to traditional MRP and Shop Management functions, the system supports Lean Manufacturing. This unique combination facilitates an easy and affordable approach for companies to adapt Lean Manufacturing methods at their own pace.

Lean Customer Drives Lean Features

User Solutions worked with the NIST-Manufacturing Extension Partnership (MEP) on a project to support Instruments for Industry (IFI), a Long Island-based electronics assembly company committed to Lean Manufacturing. As a result, Resource Manager-DB was adapted to support Lean Manufacturing principles. Orca Technical Services, a subsidiary of IFI, is now a Distributor for the product, utilizing an actual live environment as part of an East Coast Training Center for Resource Manager-DB. According to Robert Krause, MRP Specialist for IFI, "In my 20 years of working with MRP and Inventory Systems, it's refreshing to work with a product that is so open and flexible to support our initiatives."

Robert explains, "Even though the purpose of Lean Manufacturing to simplify material management and to eliminate the dependence of a labor intensive MRP/ERP computer controlled system, the reduction of inventory levels and the increase in inventory turns has created a heightened burden on the Purchasing Professionals. A "Lean" purchasing system is required to relieve this increased workload. Resource Manager - DB supports Lean Manufacturing Techniques while making material replenishment fast and efficient. This is accomplished by a paperless material requisition/procurement system, via a fully enabled Bar Coded system and the email Purchase Order feature that allows the Purchasing Professional virtually no limitations in Purchase Order generation."

Lean Fast for GE Wind Energy

GE Power Systems, Wind Energy Division, is starting up a new plant in Pensacola, Florida for producing the next generation of windmill blades. According to Jeff Henning, CPIM, Master Scheduler, "We were looking for a material tracking system that could be operational in a very short period of time, while providing the necessary planning tools and reports of much larger and costlier systems".

Mr. Henning and his team selected a multi-user version of Resource Manager-DB after they sent sample data via e-mail and User Solutions demonstrated, with web conferencing, the capabilities of the system to quickly import existing Bills-Of-Material from Excel. Jeff continues, "We are pleased with the flexibility Resource Manager-DB has to import/export data as well as the thoughtfully designed inventory management screens. In addition the barcode reader interface with Excel-based reporting provided us with an easy to use, yet robust management system in less than one week's implementation time. We also needed a system that required very little start-up training and we have found that operators feel very comfortable with the layout and the user-friendly Excel based outputs."

Quick Implementation and Solid Benefits

The GE Team requested the system be implemented in less than two weeks after their order. With the initial data used during the web conference, User Solutions and Orca Technical delivered a complete system, including Palm-Pilot Bar Code Scanners, in just a few days. According to Jeff Henning, "The implementation was much faster than we expected and was customized to meet our needs in a lean manufacturing environment. The consultant was very knowledgeable and helped us tailor the system quickly to incorporate the point-of-use Kanban process we desired." In summary, Jeff states "The key benefits to us have been Excel based reports that make data mining extremely easy, barcode reading that simplifies data capture, and electronic signaling for material reorder or stockroom replenishment using a simple e-mail process".

Lean on US

Available through User Solutions, and/or Orca Technical Services, the single user version starts at $4,900 and is $7,400 with Lean Manufacturing Options. A multi-user version is simply twice single user system. Resource Manager-DB runs with Windows and MS Office 97 or greater for reports. For more information, or for free trial, contact: www.UserSolutions.com (800) 321-8737 or www.ifi.com/lean (631) 467-8400 X 107

11009 Tillson Drive South Lyon, MI 48178 ph: 248.486.1934 fax -6376 email: us@usersolutions.com

About US: For over 12 years, User Solutions' affordable products have helped thousands of companies plan, schedule and track resources more efficiently. With a unique Microsoft Office-centric approach, the Resource Manager product line is an ideal, integrated solution for the smallest of manufacturers and a perfect add-on complement for larger companies with existing ERP solutions. The flexible, intuitive, award-winning design easily adapts to how customers are working now, facilitating quick implementation and easy maintenance. For more information, please see usersolutions.com.

All Trademarks are the property of their respective owners.

More from Services