Software supports Flash Player 9 and ActionScript 3.
Press Release Summary: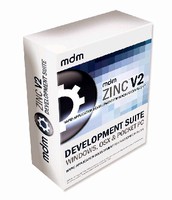 Zinc v2.5.0.17 includes ActionScript 3 and Flash Player 9 capability to provide secure runtime environment for rich media and enterprise-ready Internet applications. Users can migrate their work with minimal code change to script, and Integrated Development Environment can specify which ActiveX flash control is bundled with application. Developers can deliver dynamic multimedia content and applications via ActionScript v3.0 and ActionScript Virtual Machine.
---
Original Press Release:

MDM Zinc Updated to Support Adobe Flash Player 9, ActionScript 3 and Flex 2



Wolverhampton, UK, July 13, 2006 -- Multidmedia Limited (MDM) today announced the release of Zinc 2.5.0.17 - an update of their industry defining title Zinc v2.5 which will now include ActionScript 3 and Flash Player 9 capability. The update coincides with Adobe announcing the availability of Flash Player 9, the next-generation Flash Player client runtime. Flash Player 9 will provide a more secure, lightweight, robust runtime environment for rich media and enterprise-ready rich Internet applications.

With Flash Player 9 providing a new application runtime capability for Adobe Flex 2, the update from MDM will expand Zinc's capabilities into new products and technology. Flex 2 provides developers with a comprehensive, integrated set of tools and technology for fast, end-to-end development of rich and innovative web applications. Zinc 2.5.0.17 will allow users to migrate their work from Flash 8 to Flex and Flash 9 with minimal code changes to {mdm} script.

The update to Zinc will mean the IDE (Integrated Development Environment) will have the ability to specify which ActiveX flash control is bundled with the application, be it Flash 8 for legacy applications or Flash 9 for those on the cutting edge. With the new MDM proprietary SWC, users can now link into the MDM runtime using Flex and ActionScript 3.

MDM Software Engineer, Kevan Harriman, commented that the update would allow developers greater freedom "The IDE is now effectively multi-workflow as it can accommodate existing users who have time and investment in Flash 8 /ActionScript 1 & 2 and cutting edge users keen to move into the new realms of Flash 9/ActionScript 3. All this from one environment."

The updates to Flash and Zinc will mean that Developers can now deliver powerful and dynamic multimedia content and applications via ActionScript 3.0 and a new highly optimized ActionScript Virtual Machine (AVM). "Flash Player 9 enables developers to deliver next generation Web applications with its dramatically increased performance and leading edge scripting," said Kevin Lynch, senior vice president and chief software architect at Adobe Systems. "We look forward to seeing how the community will leverage the newest Flash Player in their innovative work."

About Multidmedia Limited (MDM)
Multidmedia Limited (MDM) is a privately held software company based in the UK and is the Industry leader in Rapid Application Development Tools for Macromedia Flash. The Company's innovative development software is used in over 75 Countries by designers, developers and Fortune 500 Companies.

For more information please contact Seetle Chahal, Marketing & PR Executive, Multidmedia Limited (MDM) seetle@multidmedia.com