Software speeds automated test development and deployment.
Press Release Summary: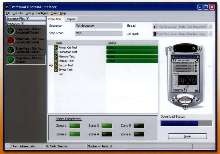 TestStand v3.0 helps engineers build and deploy automated prototype, validation, and manufacturing test systems. LabVIEW adapter interface provides instant connectivity to LabVIEW test programs. User interface controls reduce amount of code necessary to program operator interface. Engineers can use deployment utility to ensure all necessary test sequences, code modules, and resource files transport to appropriate deployed test stations.
---
Original Press Release:
NI TestStand 3.0 Speeds Automated Test Development and Deployment

Test Management Software Adapters and User Interface Controls Reduce Programming Time by 75 Percent

AUSTIN, Texas - NIWeek, Aug. 13, 2003 - National Instruments (Nasdaq: NATI) today announced TestStand 3.0, the newest version of its test management software, designed to help engineers build and deploy automated prototype, validation and manufacturing test systems 75 percent faster. TestStand 3.0 delivers more than 30 new features, including an enhanced LabViEW adapter interface for instant connectivity to LabVIEW test programs, user interface controls for significantly faster development of custom test system operator interfaces and a new deployment utility for rapidly deploying software to test systems located locally and worldwide.

"The new TestStand 3.0 adapters and user interface controls are a big step forward," said Raymond Bender, senior engineer at the Panasonic Wireless Development Center. "The new features will be very useful as we move towards standardizing on a test software platform and begin building our next generation test systems."

Using the new TestStand 3.0 LabVIEW adapter interface, engineers can instantly share data between TestStand and LabVIEW test programs without any additional programming. The new LabVIEW adapter interface also delivers execution times comparable to calling a dynamic link library for maximum throughput and performance. In addition, engineers now can use the LabVIEW adapter interface to remotely automate LabVIEW VIs located on networked computers, including LabVIEW Real-Time applications for tight integration with embedded control systems.

TestStand 3.0 also offers improved connectivity with LabWindows/CVI, Microsoft Visual Basic 6.0 and Visual Basic .NET, C# and Visual C++. As a result, engineers can more easily create and debug test programs from TestStand in these programming environments. LabWindows/CVI and Visual Basic 6.0 users also can call test programs with arbitrary function definitions and custom COM interfaces, making it easier to reuse existing test code written in these environments.

With the new TestStand 3.0 user interface controls, engineers can develop custom operator interfaces for test applications in minutes rather than days. The new controls manage all communication required between TestStand and the operator interface. The manager controls automate the high-level communication with the TestStand engine. The visible controls resemble common controls, such as buttons, labels and list boxes, and communicate with the manager controls to automatically respond to events generated by the TestStand engine as the tests execute.

The TestStand 3.0 user interface controls significantly reduce the amount of code necessary to program an operator interface. For example, the new LabVIEW operator interface created with the TestStand 3.0 user interface controls requires only 24 VIs compared to the more than 200 VIs required in the TestStand 2.0 operator interface. The new controls reduced the number of lines of code by more than 90 percent for the new LabWindows/CVI operator interface.

Engineers can quickly deploy test systems using the new deployment utility to ensure all of the necessary test sequences, code modules and resource files transport to the appropriate deployed test stations. Because the deployment utility tightly integrates with the TestStand sequence editor workspace environment, engineers can efficiently modify, manage and organize test projects and ensure continuous deployment and updates of their test systems.

About National Instruments

National Instruments (www.ni.com) is a technology pioneer and leader in virtual instrumentation - a revolutionary concept that has changed the way engineers and scientists approach measurement and automation. Leveraging the PC and its related technologies, virtual instrumentation increases productivity and lowers costs for customers worldwide through easy-to-integrate software, such as the NI LabVIEW graphical development environment and modular hardware, such as PXI modules for data acquisition, instrument control and machine vision. Headquartered in Austin, Texas, NI has more than 3,000 employees and direct operations in 40 countries. In 2002, the company sold products to more than 25,000 different companies in more than 80 countries around the world. For the past four consecutive years, FORTUNE magazine has named NI one of the 100 best companies
to work for in America.

Readers may obtain investment information from the company's investor relations department at (512) 683-5090,
by sending e-mail to nati@ni.com or on the Web at http://ni.com/nati.

Pricing and Contact Information

TestStand 3.0

Priced from $2,995

TestStand 3.0 Upgrade from $595

Web: http://ni.com/teststand

11500 N Mopac Expwy, Austin, Texas 78759-3504

Tel: (800) 258-7022, Fax: (512) 683-9300

E-mail: info@ni.com
More from Electrical Equipment & Systems