Software simplifies Road Load Data process.
Press Release Summary: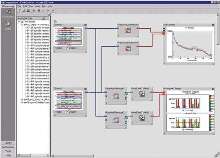 ICE-flow(TM) end-to-end process solution suits applications where test data has to be acquired, validated, processed, and distributed to others within enterprise in traceable way. It transforms raw data into useful information and can deliver it automatically to multiple recipients, worldwide. Combining integration, communication, engineering, and workflow tools, product's scalable environment provides system for formal management of entire RLD process.
---
Original Press Release:

New nCode Product 'ICE-flow' Slashes Road Load Data Process by 50%


Press Release Date: 07/03/03 Body Text: SOUTHFIELD, Mich. -- nCode International, the leading global provider of durability simulation software, services and systems, announces the launch of ICE-flow(TM): an end-to-end process solution for applications where massive amounts of test data have to be acquired, validated, processed, and distributed to others within an enterprise in a traceable way.

The first release of ICE-flow targets the Road Load Data (RLD) process, where a 50 percent improvement in process efficiency is anticipated. Other applications, including materials, operational loads monitoring and production testing, will follow later this year. Pre-launch customers already include Scania, Delphi, American Axle, Land Rover and Jaguar.

"Quick transformation of vast amounts of raw data into useful information from which key technical and business decisions can be made is the greatest challenge facing industry today," said nCode chairman and CEO Brian Dabell, "and this is where ICE-flow is superior. Qualified multi-channel data from a test anywhere in the world can be automatically delivered the same day to multiple recipients - ICE-flow will track the data and monitor every stage of the process." Combining Integration, Communication, Engineering and workflow tools, ICE-flow is an off-the-shelf, scalable environment configurable to specific data acquisition, processing, reporting and process management needs. It provides a system for formal management of the entire RLD process - from test design, data acquisition and validation, through data analysis and fatigue-related processing, to data management and reporting.

ICE-flow helps companies move from ad hoc testing procedures to an integrated process where managers can design multiple event testing programs at base, download them to the test department, and monitor the ongoing test status at any time. Referencing the GPS (global positioning satellite) 25 times per second, even the location of the test vehicle is known to within a few feet, and the system makes full use of satellite communications, mobile telephones and the Internet to quickly get data from the field, into the system and back out to any authorized reader.

With a simple login, users can connect to ICE-flow at anytime from any available PC, laptop or workstation. ICE-flow has special techniques that enable users to quickly scan through Gigabytes of pertinent data. It contains all the algorithms to automatically detect anomalies, clean the data, and determine which channels out of the hundreds that were measured are important for durability engineering purposes. Those back at base will know which data sets have not yet been validated, which are suspect, and which can be made available to the departments waiting for them. ICE-flow provides advanced data management tools and process audit trails that help everyone work more professionally. And it can be configured to match established user processes and IT infrastructures.

Swedish-based Scania, one of the world's largest heavy truck and bus companies, was heavily involved in shaping the system. Christer Olsson, durability manager for Scania, uses ICE-flow for all durability tasks: including the cataloging of materials data collected over 50 years; laboratory test results of specimens, components, sub-assemblies and full vehicles, and the collection and handling of data during field and proving ground trials. "The initial training will be for 200 people," Christer stated, "and as ICE-flow will allow us to maintain our corporate knowledge for applications such as NVH and acoustics, we anticipate many more users in the future."

Kevin Knill, nCode's vice president of product development added, "ICE-flow is an open system. It imports data from a variety of sources, recorders, analyzers, and dedicated instruments, and is seamlessly integrated with our SoMat range of field data acquisition hardware. ICE-flow can be quickly configured to meet a customer's specific process, hardware and analysis needs - it can also empower radical change."

About nCode International

nCode International is the world's leading supplier of engineering solutions for durability, with major customers in the ground vehicles, aerospace and offshore industries. Many major Original Equipment Manufacturers (OEMs) use nCode solutions for durability management, including Ford Motor Company, General Motors, Volvo, DaimlerChrysler and John Deere. Additional information is available at www.ncode.com. nCode is an AEA Technology plc company.

About AEA Technology plc

AEA Technology plc is one of the world's leading innovation businesses. AEA Technology turns science and engineering into profit for the benefit of its customers and investors. Additional information about AEA is available at www.aeat.com.

nCode, the nCode logo and ICE-flow are trademarks of nCode International. All trademarks or registered trademarks herein are the property of their respective owners.

More from Construction Equipment and Supplies