Software simplifies orthotic insole design/manufacturing.
Press Release Summary: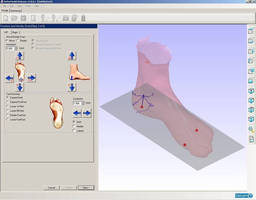 OrthoModel takes design data from scanning system or uses manual measurements while OrthoMill takes models from CAD systems and outputs instructions to milling machine. Suited for comfort/medical markets, programs incorporate menus with industry terminology and also enable patterns to be designed from scan data to create orthotics in various materials. Users can add library of models, add-ons, and cut-outs and cast-dressing lets user apply corrections directly to foot scan.
---
Original Press Release:

Delcam CRISPIN Launches New Software for Orthotics Design and Manufacture



Delcam CRISPIN has launched a new version of its software for the design and manufacture of orthotic insoles. The most obvious change has been the division of the software into two programs - OrthoModel and OrthoMill for design and manufacture, respectively. A number of new functions have also been added in response to requests from the various orthotics companies that are supporting the development of the system.

The division of the software into two programs has increased the purchasing flexibility for customers; giving both practitioners and laboratories the option to choose the combination of software which best suits their needs.

The combined programs provide a complete solution for the production of high-quality insoles for both the comfort and medical markets. The entire process is driven by a series of easy-to-use menus, which incorporate the terminology used by the industry to describe the various features of the orthotic. This makes it easy for medical and footwear professionals to use, even those having no previous CADCAM experience.

The main addition to the program is a new method for creating "foot-positive" models. This allows patterns to be designed directly from scan data taken from the patient's foot to create foot orthotics in a variety of materials, including carbon fibre.

A new "cast-dressing" option allows the user to apply corrections directly on the scan of a patient's foot when designing orthotics. This process duplicates on the computer the modifications made to the cast by adding or subtracting plaster using the traditional methods. In a related development, the scan and the orthotic can now be overlaid and viewed together, so that the extent of the changes can be seen easily.

Improvements to existing options include enhancements to the functions for alignment of the scan to give more precise accuracy of measurement. Dynamic editing methods, with immediate on-screen feedback, have been added for heel expansion and for raising or lowering the arch.

In addition, the library of base models provided with the software has been enhanced and extended. Furthermore, customers are now able to add their own library of models, add-ons and cut-outs.

Although many customers are expected to use both OrthoModel and OrthoMill, the two programs also completely "open". OrthoModel can take data from any scanning system or use manual measurements, while OrthoMill can take models from most CAD systems and output machining instructions to any milling machine. Delcam CRISPIN is happy to recommend the type of equipment that is required to companies that are new to computer-aided manufacturing.

Using OrthoModel and OrthoMill reduces the time needed to prepare orthotics so giving the faster turn-around times that customers demand. In addition, the use of computer-based design and manufacturing techniques brings the benefits of accuracy and quality to the orthotics industry that are already enjoyed by other areas of footwear manufacturing.

For further information on Delcam CRISPIN's software for footwear design and manufacture, please contact: -

Peter Dickin, Marketing Manager

Direct phone: 44 (0)121 683 1081

e-mail: pjd@delcam.com

Delcam plc

Small Heath Business Park,

Birmingham, B10 0HJ, UK

www.delcam.com

More from Fasteners & Hardware