Software runs on all-electric tube bending machinery.
Press Release Summary: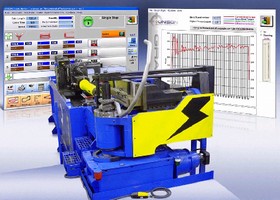 Providing programmable control of tube bending machines, Unibend Control Software includes Graph Analysis utility, which captures data on torque values that each machine axis applies during programmed tube bending operation. Carriage Push utility allows programmers to dynamically control movement of carriage using profile, while Performance Analysis function records information on machine usage, including timings of start and stop button presses, idle time, and parts produced.
---
Original Press Release:

Tube Bending Software Sets New Standards In Production Quality And Productivity



Fabtech International exhibition, Atlanta GA, November 1, 2006 --- Fabricators of tubing-based products will be able to achieve higher standards of quality and productivity using new software tools provided by Unison for its all-electric tube bending machinery.

On display at Fabtech is an example 3-inch (76-mm) tube bender running the new version of Unison's Unibend Control Software. Among the unique tools included in this latest release are: detailed torque analysis software for each axis which allows fabricators to track tubing quality and compare suppliers, a utility that captures usage data to assist productivity analysis, and the ability to dynamically control the profile of the carriage push cycle - for even finer control of bend quality. Combined with the software's existing tube bending features, the launch is believed to provide manufacturers with the most finely-programmable and software-rich control of tube bending available worldwide.

Unison's Breeze family of tube bending machines use servo motors instead of hydraulic force to control the bend process, including clamp, pressure die, mandrel and follower. This all-electric actuation provides significant benefits related to repeatability and energy consumption. Following set up, all operating parameters are stored, allowing machines to be configured for further batches of parts in a few minutes, and without creating any scrap. Further, as the actuation elements of the machine need energy only when a bend is being made, total consumption is greatly reduced. A key element of all machines is Unibend Control Software, which exploits the underlying architecture to deliver versatile tube-bending capability.

One of the major additions in the new release of software is called Graph Analysis. This utility captures data on the torque values that each machine axis applies during a programmed tube bending operation. By comparing the torque data required to bend new material batches against a 'golden' example, the information can help to identify any changes in the quality of material, helping to track the ongoing performance of a manufacturer's tubing suppliers.

Another utility, called Performance Analysis, has been enhanced to record even more information on machine usage, including the timings of start and stop button presses, idle time, parts produced, etc. This raw data on the productivity of a manufacturer's tube bending capital equipment can help a company's production management to generate a detailed picture of shop-floor operations, to aid in the analyses of operational efficiency and productivity.

A third major software addition is Carriage Push. This utility allows programmers to dynamically control the movement of the carriage using a profile - complementing the programmable control already available over clamp, pressure die, mandrel and follower action. This feature is expected to be of particular interest to users such as aerospace manufacturers, as it gives even finer control over the bending process to ensure quality results even when using the most expensive and thinnest-wall tubing materials.

Unison's tube bending machines are available in North America exclusively from Horn Machine Tools. Details are available at: www.unisonltd.com/products.htm and www.hornmachinetools.com/

N. America (Unison agent): Horn Machine Tools, 40473 Brickyard Drive, Madera, CA 93638, USA. t: 559-431-4131; f: 559-431-4431; e: hmt@sierratel.com; w: www.hornmachinetools.com For more information please contact:

Europe: Unison, Olympian Trading Est., Cayton Low Road, Scarborough, YO11 3BT, UK. t: +44( 0) 1723 582868; f: +44(0)1723 582379; e: enquiries@unisonltd.com; w: www.unisonltd.com

More from Material Handling & Storage