Software reduces design review time.
Press Release Summary: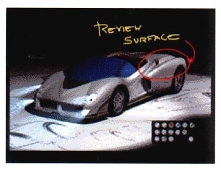 PortfolioWall v1.5 allows users to view, annotate, collaborate, manage and make decisions on visual digital data through simple touchscreen interface. By transforming large plasma screen into networked digital corkboard, it allows managers to review and approve selected work in progress, thus shortening review cycle and bringing products to market faster. Designers and artists can review full collection of visual assets relevant to projects.
---
Original Press Release:
Alias|Wavefront Launches Award Winning Design Review and Presentation Tool to Design and Entertainment Industries

TORONTO, CANADA - November 29, 2001 - Alias|Wavefront, an SGI (NYSE: SGI) company and leader in 3D software for the entertainment and design markets, today announced the worldwide availability of PortfolioWall v. 1.5 - the award winning software product that allows users to view, annotate, collaborate, manage and make decisions on visual digital data through a simple touchscreen interface. First unveiled at Siggraph® 2001, PortfolioWall's innovative digital corkboard approach allows companies to bring products to market faster by revolutionizing the design and production review cycle. The product is compatible with Maya® and Studio(tm) databases, plus a variety of industry-standard data display formats.

"PortfolioWall provides a unique return on investment for companies," said Peter Mehlstaeubler, Vice-President, Product Development at Aliasiwavefront. "Our research shows that up to a third of the concept design and production cycle is spent waiting on the design review process and approvals. PortfolioWall addresses this issue by offering a completely new concept of dealing with digital visual data. By transforming a large plasma screen into a networked digital corkboard, PortfolioWall allows managers to instantly review and approve selected work in progress, thus shortening the review cycle and bringing products to market faster."

PortfolioWall's "gestural interface" promotes innovative thinking by allowing users to continually interact with their digital assets. This digital software replaces traditional visual communication methods by allowing users to walk up to a digital corkboard and inspect images, animations or 3D files- all with a simple tap on the screen with a fingertip. The PortfolioWall exceptional technology changes the way people communicate in the workplace by inspiring new creative approaches to the design process. Managers and co-workers can easily inspect and compare designs in order to speed up consensus and promote creative thinking.

"During 2001, we began collaborating with Alias|Wavefront to explore how PortfolioWall could be used to support global design teams," said Pete Thomas, Design Systems Researcher, Global Design Centre, Unilever. "We've prototyped a variety of different scenarios using PortfolioWall and are extremely encouraged by the results to date. PortfolioWall has offered us a real opportunity to leverage the most from our digital assets in an intuitive, enterprise friendly solution."

Key Features of PortfolioWall

*Ease of use and simple workflow. The PortfolioWall product incorporates a touchscreen user interface that reduces user learning cycles down to minutes. Due to the simple and hands-on design of the software, 80 % of its features can be learned in just a few minutes.

* A unique presentation tool. PortfolioWall serves as a presentation tool for designers to display selected work in progress and allow entire design teams to see who is doing what. Designers and artists can walk up to it, quickly review the full collection of visual assets relevant to a project, and zoom into, rearrange, view at real - world scale, sketch, annotate, and compare the images. The PortfolioWall innovative technology also simplifies the process of creating presentations and makes them more dynamic by enthralling the audience with its interactive features.

* An effective decision-making tool. PortfolioWall is a decision - making tool for managers to view daily work and to review a project's progress. It allows managers to interact with design teams, participate more fully in the design process, and obtain access to visual data more quickly.

In addition, PortfolioWall v.1.5 adds sketch and text annotation, the ability to launch third- party applications, and a Maya-based 3D viewing tool that uses a touchscreen interface for panning, rotating, zooming and viewing 3D models on a turntable. It also works on mouse - driven desktop computers as well as touchscreen systems.

System Requirements Microsoft® Windows NT® 4.0 with Service Pack 5 or higher or Windows® 2000, minimum of 256MB RAM. Users running other operating systems require Netscape Communicator® 4.5 or higher on their computer to submit files to the PortfolioWall server via the Apache® HTTP Server. The Apache HTTP Server, version 1.3 or higher, is required on the PortfolioWall repository computer system for this purpose. The PortfolioWall product uses node locked and floating licenses and supports a 2D image, 3D and movie file formats.

Pricing and Availability PortfolioWall v.1.5 software is nowwide range of available in two versions:

PortfolioWall Presenter - A stand-alone application designed for individuals doing presentations and design reviews is priced at $3000 USD.

PortfolioWall Server - A networked application designed for integrating design studios and entertainment centers is priced at $35,000 USD. It includes three PortfolioWall clients and unlimited web clients. For networked applications, PortfolioWall software can also be sold with consulting services to optimize workflow, to create optimal configurations and to provide comprehensive training.

* The above-noted prices are for the US only and may vary outside the US.

Related