Software provides web-based ePassport management.
Press Release Summary: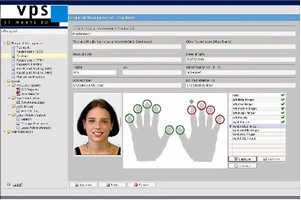 Designed to manage chip-based identity documents, Identity and Card Management System meets needs of governments issuing biometric-enabled electronic passports. Web-based system can be securely accessed remotely via browser by authorized government officials to create new passports or manage document's lifecycle. Featuring open architecture, program interfaces with hardware systems used for biometric data capture and serves as information hub for passport-related operations.
---
Original Press Release:

vps Launches Secure Web-Based ePassport Management System



The new solution, already deployed in Asia, revolutionizes the field of identity management for government-issued ID documents

Paris, France (June 8, 2006) - vps Video Print Systeme, a leading European supplier of professional IT solutions for identity management, announces the launch of its state-of-the-art web-based ePassport management solution, Identity and Card Management System (icms).

An extremely flexible, scalable and customizable system, icms is designed to manage large populations of chip-based identity documents. vps' solution was developed to meet the needs of governments issuing next generation biometric-enabled electronic passports and has already been deployed for the electronic passport program of an Asian country.

Completely web-based, icms can be securely accessed remotely via browser by authorized government officials to create new passports or manage a document's lifecycle. The solution is ideal for governments that need to issue and invalidate electronic passports from multiple decentralized locations internationally, such as passport offices, police stations, embassies and consulates.

Heightened worldwide security concerns and the problem of counterfeit travel documents have led many governments, as well as the ICAO (International Civil Aviation Organization), to call for the integration of digital biometric identifiers within passports. This enables live biometric data to be matched with data stored on the document to unequivocally link the passport to the rightful bearer. An open-architecture identity management solution, icms interfaces with all the hardware systems used for biometric data capture and serves as the information hub for all passport-related operations. vps' ID document management solution is also suitable for all other government-issued ID document programs such as national IDs, visas, driver's licenses and health cards.

About vps
vps Video Print Systeme, a leading European supplier of professional IT solutions for identity management, has been providing cutting-edge card personalization and management software solutions since 1992. With icms, its web-based, open architecture card management application, vps is driving the industry towards next-generation identity management systems. The company caters for all market requirements with solutions ranging from compact systems for small quantities of photo IDs to enterprise-level solutions for large numbers of chip-based multi-functional cards. Applications range from access control and electronic ticketing, to ePassports, national IDs, and health cards. Based in Ettlingen, Germany, vps serves its worldwide client-base through direct sales and via its partner network. For more information please visit www.vps.de.

For further information, please contact:
Karlheinz Boldvps Video Print Systeme GmbH
Carl-Zeiss-Str. 2
D-76275 Ettlingen - Germany
Tel: +49 7243 54880
Web: www.vps.de
kbold@vps.de

More from Construction Equipment and Supplies