Software provides planning, scheduling and tracking.
Press Release Summary: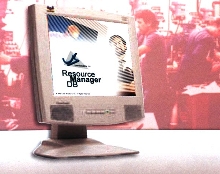 Resource Manager DB is written in Visual Basic and utilizes Jet Engine runtime database with Microsoft Excel as flexible report writer, providing flexibility for leveraging Excel on local PCs, and sharing data across network. It includes alternate routings, alternate workcenters, automatic optimization, multiple constraints, and detailed workcenter calendars that can be adjusted at any time. Dynamic Reconfiguration allows user to reconfigure scheduled production on-the-fly.
---
Original Press Release:
Resource Manager(TM) DB: Planning, Scheduling, & Tracking Made Easy

South Lyon. MI: User Solutions, Inc., has announced immediate availability of Resource Manager DB. By combining the best features from the award winning Resource Manager for Excel with the best ideas from customers, Resource Manager DB enables most any operation to immediately improve their planning, scheduling, and tracking capabilities. Written in Visual Basic and utilizing the Jet Engine run time database (same as Microsoft Access) with Microsoft Excel as a flexible report writer, Resource Manager DB provides the user unsurpassed flexibility for leveraging Excel on local PCs, and sharing data across a network.

Flexible and Quick Implementation

Finally, the user can achieve their goal of an affordable planning and scheduling solution that quickly adapts to their needs. Combining ease-of-use for small to medium sized firms, with powerful reporting and open integration for larger operations, Resource Manager DB enables customers to efficiently
manage critical resources such as labor, materials and work centers. For the first time, users can leverage their intuition and knowledge combined with the famailiar Microsoft Office(TM) platform to assist them in managing one or more of: capacity planning, customer orders, purchasing, delivering products and services on-time, reducing cycle times and inventory shortages, MRP and WIP, planning labor and workcenter requirements, tracking and all schedules. The product features on-the-fly configuration and rescheduling, allowing the user to see the benefits almost immediately, without any complicated analysis or set-ups.

"Best Value, Dollar for Dollar"

According to Chuck Barrett, Production Planner from MN, "I recently had an opportunity to test-drive the database version of Resource Manager and came away really impressed that they have been able to retain the simplicity and functionality of the Excel based version while at the same time giving it a significant boost in power and elegance. This compares quite favorably with much larger systems catering to small and mid-sized users costing many thousands of dollars more. Dollar for dollar, this is one of the best values in manufacturing software".

Advanced Planning and Scheduling Included

Resource Manager DB contains many advanced planning and scheduling features normally found in systems costing 10 times more. Resource Manager DB features: alternate routings, alternate workcenters, automatic optimization, multiple constraints, and detailed workcenter calendars that can be adjusted at any time. Now, inevitable labor fluctuations, workcenter downtime, and unexpected material shortages can be
immediately accounted for, allowing the user to regenerate a schedule with new priorities - on demand. Real-time Resource Calendar reports include: Load Utilization, Backlogs, Bottlenecks, Capacity Pockets, and more. In addition, a special Dynamic Reconfiguration allows the user to easily and quickly reconfigure scheduled Production, on-the-fly, to reflect reality.

"Powerful, yet Simple Design"

Gorilla Genomics, Inc., of Alameda California, provides molecular reagents to the biotechnology and pharmaceutical industries in their quest to understand gene expression. According to Ray Sanchez-Pescador, VP Manufacturing, "We require careful planning and tracking of raw material inventories and
shop operations. There are multiple operations, routes, and combinations of routes in the production of these reagents. Thus, we were interested in purchasing a tool that would allow management to forecast our material consumption and purchasing requirements. In addition, we required a tool that would help the shop operators know what operations needed execution on a specific day/week given our rapidly changing environment. While we found that most products were complicated, expensive to purchase and implement, and a serious overkill for our small organization, Resource Manager provided us with a reasonably priced tool that was closer to the needs of a company our size. Due to its powerful, yet simple design and familiar MS Excel interface, implementation and training expenses could be minimized".

Dr. Sanchez-Pescador continues, "The transition to the new, robust Resource Manager DB continues to provide us with additional benefits. Among them, the ability to integrate Resource Manager DB with the rest of our SQL-based infrastructure, and eventually with an ERP system. Once Resource Manager DB is fully implemented, we will be able to model our production processes, proactively plan production runs and
modify the plan in real time, manage our material purchases, provide the shop operators with clear instructions on a day to day basis, and finally, track actual progress against the original plan".

Affordable and Compatible

The single user version is just $4,900 and guaranteed. A 2-5 multi-user version is $9,800 complete. Resource Manager DB runs with Windows and Excel 97 or greater for reports.
More from Packaging Products & Equipment