Software provides lubrication management.
Press Release Summary: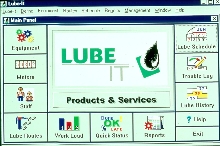 SurveyView(TM) and Lube-It(TM) support Molykote® Lubrication Management Program. Lube-It(TM) streamlines lubrication routes within plant and automatically schedules lubrication all year. It tracks completed activities and creates work-force scheduling. SurveyView(TM) provides on-screen access to equipment database for lubrication requirements and protocols. It visually displays what to lubricate, how often, and with what lubricant and method.
---
Original Press Release:

New Lubrication Management Software from Dow Corning Helps Reduce Cost & Time


User-Friendly Software Tracks, Schedules, Plans Routing for Thousands of Lubrication Operations to Ensure Accurate, Cost-Effective Plant Maintenance

MIDLAND, MICH. (Aug. 1, 2002) - A new software solution that allows for complete automation of the lubrication management process is now available from Dow Corning as support for its Molykote® Lubrication Management Program.

The company says that SurveyView(TM) and Lube-It(TM) lubrication management software comprise the most complete, user-friendly software available that is designed specifically for industrial lubrication management rather than general plant maintenance routines. The state-of-the-art software can track, schedule, and plan routes for thousands of lubrication operations in manufacturing and industrial plant sites to ensure accurate, cost-effective maintenance. Savings result from new efficiencies in time management as well as information to help minimize lubricant inventories and human error that can cause wasteful lubrication maintenance emergencies. As a result, the lubrication management software helps extend equipment life and service intervals while reducing overall costs associated with lubrication and equipment life cycles.

"We added this software to our Molykote® Lubrication Management Program as a way to help customers equip themselves to better respond to the trend towards consolidation of manufacturing facilities and today's increasingly wide range of equipment types and ages," says Jim Stutelberg, Molykote Channel Manager.

"Individual equipment requirements, lubricant types, and correct timing and methods for lubrication add up to thousands of operations that are increasingly difficult to control and track by manual means. Attrition and turnover of staff compound the problem, as new personnel must be brought up to speed on equipment and fluids that may be unfamiliar to them," he explains.

Increased Efficiency
Lube-It(TM) software features routing and scheduling capabilities. It streamlines lubrication routes within a plant and automatically schedules lubrication all year long. The program's database provides the user with easy access to lubrication requirements and procedures, and the software can track completed activities and create work force scheduling. MRO
personnel benefit from a weekly lubrication-requirements report that includes intelligent routing, plus exact fluids and procedural steps at each lubrication point. Scheduling features provide a flexible means to ensure that equipment receives attention when needed. The exclusive routing features in the Lube-It package provide the best path from one point to the next, saving many hours per week otherwise lost on inefficient movement throughout the plant. Furthermore, the software can be easily updated to accommodate plant changes. Users report that Lube-It pays for itself out of direct cost savings within months of installation simply by saving steps. A paper manufacturer, for example, attributes annual savings of more than $300,000 (USD) to the use of the software in just one site.

SurveyView(TM) is designed for plant maintenance professionals taking the first steps toward building a database of lubrication points and requirements, but who are not ready for a system that totally automates the lubrication management process. SurveyView software provides on-screen access to the equipment database for lubrication requirements and protocols. It produces printed reports that are organized in user-friendly formats. As an alternative to manually created report systems, SurveyView(TM) software visually displays what to lubricate, how often, and with what lubricant and method. Look-up functions allow personnel to find lubrication needs by machine, building, processing system, or on a plant-wide basis.

Supported by Oil Analysis
Both SurveyView and Lube-It(TM) databases are enhanced with support information generated by the Integrated Oil Analysis Program from Dow Corning. The analysis tracks six very comprehensive, critical life-related parameters of lubricating fluids. Each report integrates analysis data of each parameter in (up to) two previous samples as well as the current sample level. Alone or in combination, the information can indicate the condition of the equipment and/or lubricants. It also can provide information that ultimately helps customers make the next fill of oil last longer and better which, in turn, helps equipment run better and longer, too.

Analysis reports rely on a proprietary aging marker in the lubricants to tell the precise condition of the company's Molykote® brand lubricants at any point in time, and when they need to be changed. The analysis also provides data that reveals developing lubricant and machine wear-related problems as early as possible. When entered into the lubrication management software, the oil analysis data permits timely scheduling for maintenance as needed.

Windows® -Like Ease of Use
The software is easy to use and flexible, and works much like Microsoft® Windows® routines. Operation is mainly through user-friendly windows, drop-down menus, point-and-click, and drag-and-drop steps. No computer or database expertise is needed. There are no filters or queries to stump users. In addition, keyboarding and data entry are minimal, and users can very easily update and modify lubrication requirements, routes and schedules at any time. The software not only provides information needed to optimize lubrication programs, it also makes it easy to adopt what has been learned from the data collection itself. With the Lube-It(TM) software, for example, users may discover it is more efficient to organize lubrication routes around the type of lubricant rather than just the plant layout. With a few point-and-click steps, users have recommendations for new, improved routes.

Molykote® Lubrication Management Program
The Molykote® Lubrication Management Program, introduced in 2001 by Dow Corning, offers a comprehensive package of lubricants and related services designed to help customers reduce overall maintenance costs, extend equipment life, and simplify the purchasing process by consolidating all lubrication-related activities with one supplier.

The program features the introduction of 42 new industrial fluids that are marketed under the Molykote brand name, the oil-analysis service and lubrication-management software, which together complement the company's traditional line of Dow Corning® brand industrial lubricants and related services that meet virtually every plant lubrication need.

With the addition of its new line of Molykote brand fluids to its line of Dow Corning brand industrial lubricants, the company now offers the most complete selection available to meet virtually every industrial plant lubrication requirement. The selection includes synthetic and ultra high-purity mineral oils, specialty lubricant compounds, greases, pastes, anti-friction coatings, and dispersions.

A typical industrial customer who consolidates with this product and service package may expect to achieve six categories of benefits, including:

- Better return on capital investment through longer machine life
- Improved overall productivity through extended fill intervals
- Streamlined inventory through elimination of items with similar properties
- Better preventative maintenance through integrated oil analysis
- Better equipment performance through selection and quality of lubricant; and
- More effective maintenance management through better informed decision-making

This package of Dow Corning and Molykote® lubricants and services is being implemented as a comprehensive lubricant consolidation program through Dow Coming's channel partners, which have over 3000 field locations.

Dow Corning currently offers more than 7,000 products to customers around the world. Dow Corning is a global leader in silicon-based materials with shares equally owned by The
Dow Chemical Company and Corning Incorporated. More than half of Dow Corning's sales are outside the United States. Molykote has been a well-known brand for industrial lubrication throughout Europe and Asia since the 1950s.

For more information about Molykote multipurpose oils or Dow Corning's complete line of Molykote high-performance industrial lubricants, as well as product literature, contact www.Molykote.com, or call +1.800.637.5377.


More from Sensors, Monitors & Transducers