Software provides integrated CAE and test functionality.
Press Release Summary: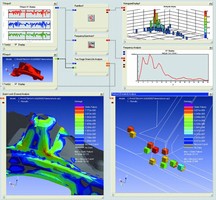 ICE-flow DesignLife(TM) software is fully integrated CAE and test environment for advanced durability engineering that addresses key areas of fatigue analysis. It enables users to create streamlined workflow, allowing rapid prediction of fatigue hotspots and product lifetime earlier in design cycle.
---
Original Press Release:

nCode to Launch Integrated Test and CAE Fatigue Solution - Designlife - at Automotive Testing Expo 9-11 May, Hall 4 Stand 4428



nCode International will be launching and demonstrating its next generation fatigue analysis solution, ICE-flow DesignLife(TM), at this year's Automotive Testing Exhibition in Stuttgart. The new software, from the world's leading supplier of fatigue analysis technology, is the first fully integrated CAE and Test environment for advanced durability engineering and has been found to reduce key areas of fatigue analysis development time by as much as 90 percent.

By combining CAE and Test functionality in a single user environment, DesignLife helps to optimise the efficiency of the durability process, thus reducing overall product development time and costs. Visitors to the exhibition, which runs from 9 to 11 May, will be able to appreciate the full potential of the technology and discover how it creates a more streamlined and efficient workflow, enabling the rapid prediction of fatigue hotspots and product lifetime without compromising on power, flexibility or realism of results.

nCode Chairman, Brian Dabell, says: "The Automotive Testing Exhibition is the ideal platform for the launch of DesignLife. We have developed a solution that addresses some of the most pressing issues facing the automotive and other high-performance product development industries today: the need to bring better products to market faster - and to do so with an ever-reducing team of engineers. DesignLife helps to optimise product durability earlier in the design cycle. In tests, some customers reported a reduction in development time of as much as 90 percent in key areas."

nCode will be demonstrating its latest solution at the Automotive Testing Exhibition in Hall 4, Stand 4428 from 9 to 11 May.

About nCode International
nCode is "The Durability Company", providing the hardware, software and support services that enable its customers to optimize their durability engineering processes. nCode's mission is to improve product design, accelerate product development, and enable lifetime monitoring. The company's unique portfolio comprises data acquisition instrumentation, signal processing with fatigue analysis software, systems to handle and process the raw data, as well as materials testing and consultancy services.

Sales Enquiries
Steve Tudberry
nCode International,
230 Woodbourn Road,
Sheffield,
England,
S9 3LQ
www.ncode.com
Tel: +44 (0)114 275 5292
Email: steve.tudberry@ncode.com

More from Mechanical Power Transmission