Data and Database Management Software
Software provides data logging in harsh environments.
Press Release Summary: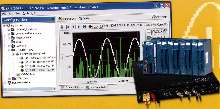 VI Logger v1.1 can log data from NI FieldPoint and Compact FieldPoint I/O, which operate in temperatures from -25 to +60°C. Rather than manually starting and stopping acquisition, user can configure application to collect set number of data points or capture data during set time frame. VI Logger includes 22 LabVIEW virtual instruments for additional analysis capabilities and I/O. For report generation and post-acquisition analysis, data can be exported into DIAdem.
---
Original Press Release:
National Instruments VI Logger Software and Compact FieldPoint Distributed I/O Deliver Easy Remote Data Logging for Harsh Environments

AUSTIN, Texas - July 29, 2003 - National Instruments (Nasdaq: NATI) today announced VI Logger 1.1, the latest version of the company's configuration-based data logging software that now can log data from NI FieldPoint and Compact FieldPoint I/O. Because Compact FieldPoint operates in temperatures ranging from -25 °C to 60 °C and is rugged enough to endure high vibration, users can run VI Logger applications in conditions that cause many industrial PCs to fail.

In addition to extending their applications to extreme industrial conditions, users also can perform finite acquisition with VI Logger 1.1. Rather than manually starting and stopping acquisition, users now can easily configure their application to collect a set number of data points or capture data during a set time frame. They can use this new feature in conjunction with the VI Logger event detection capabilities to capture data after specific events, such as when a voltage level changes.

Users can easily expand the capabilities of their data logging systems by integrating VI Logger with the NI LabVIEW graphical development environment or by sharing and reporting their logged data with NI DIAdem data analysis and report generation software. VI Logger now ships with 22 LabVIEW virtual instruments (VIs) to help users quickly add additional analysis capabilities and I/O, such as NI and third-party motion control and machine vision, to their data logging systems. For report generation and post-acquisition analysis, users now can easily export their data into DIAdem without programming.

About National Instruments

National Instruments (www.ni.com) is a technology pioneer and leader in virtual instrumentation - a revolutionary concept that has changed the way engineers and scientists approach measurement and automation. Leveraging the PC and its related technologies, virtual instrumentation increases productivity and lowers costs for customers worldwide through easy-to-integrate software, such as the NI LabVIEW graphical development environment, and modular hardware, such as PXI modules for data acquisition, instrument control and machine vision. Headquartered in Austin, Texas, NI has more than 3,000 employees and direct operations in 40 countries. In 2002, the company sold products to more than 25,000 different companies in more than 80 countries around the world. Readers may obtain investment information from the company's investor relations department at (512) 683-5090, by sending e-mail to nati@ni.com or on the Web at http://www.ni.com/nati.

Pricing and Contact Information

VI Logger

Priced at $995
Web: http://www.ni.com/vilogger

11500 N Mopac Expwy, Austin, Texas 78759-3504

Tel: (800) 258-7022, Fax: (512) 683-9300

E-mail: info@ni.com
More from Electronic Components & Devices