Software provides complete tool tracking solution.
Press Release Summary: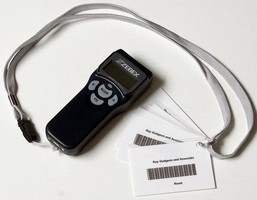 ToolTrakka v6 barcode processing solution tracks tools and equipment issued to employees, external third party contractors, jobs, and containers. Each item can be assigned hire rate, and date and time of each issue and return are recorded. In addition to audit facility that records location scanned and identifies all items missing from scanned batch, multi-user system features consumables management functionality and complete purchasing and inventory system.
---
Original Press Release:

New Version of Popular Tool Tracking Software Released



Ray Gudgeon and Associates Pty Ltd has released version 6 of its ToolTrakka software package. ToolTrakka offers a complete solution for the tracking of tools and equipment that are issued to employees. Version 6 adds significant new functionality.

ToolTrakka V6 features more streamlined barcode processing of equipment and tool check in and check out. Items can now be issued to external third party contractors as well as to employees, jobs and into containers. Containers can now be placed into other containers and containers can be issued to employees, to jobs and to contractors. Each item can be assigned a hire rate. The date and time of each issue and return is recorded and a hire cost report can be produced so users can apportion the cost of hire to the appropriate entity.

ToolTrakka's new range of barcode readers is lower in cost and each model is much smaller than the previous units. The readers are batch mode and battery powered. They can be removed from the computer and taken to a tool store or yard for the purposes of recording transactions. The unit can then be returned to the computer to upload the batch of transactions to the program.

An audit facility has been added to ToolTrakka's arsenal of tools. This allows a user to visit a job location, employee, contractor or a container and scan all the items at that location. This batch of scans can then be uploaded into ToolTrakka and a report will be created showing the status of all items scanned. In addition, the audit facility looks up ToolTrakka's records of the location scanned and will identify all items missing from the scanned batch. The report shows all items correctly in place, all items checked out to another location and all items that were supposed to be at that location but are missing.

ToolTrakka Version 6 now allows users to manage the issue of consumables. A complete purchasing and inventory system is included to allow users to record purchases, to maintain average costs and to monitor inventory levels. As new consumable items are entered into the system a default barcode will be set. This can be overridden by reading a standard EAN.UCC barcode with the barcode scanner. This allows users to take advantage of barcodes that are already on the items for simple check out.

Consumable items can be issued to employees, to jobs, into containers or to third party contractors. Full reporting is available to provide costing information to users for the purposes of allocating costs based on items consumed.

ToolTrakka is a multi-user system designed to track the whereabouts of tools and equipment. It can be used by any organisation that issues tools and equipment to employees. The close tracking of such equipment reduces pilfering and equipment loss. Once employees know that ToolTrakka is keeping track on all equipment they tend to be more careful with such items and considerable savings in cost can be generated. Barcoding makes the process simple and quick for tool store staff. ToolTrakka was developed in Australia and is supported locally. The program is in use in large construction companies, mining companies, mineral processing plants and electrical contractors.

Full information on ToolTrakka V6 can be obtained from the www.tooltrakka.com.au or by contacting the developers at 0419 274 264

Company Name: Ray Gudgeon and Associates Pty Ltd
Address 1: PO Box 892
Address 2:
City: Campbelltown
State:
Zip: 2560
Country: Australia
Phone: +61 2 419 274264
URL: www.tooltrakka.com.au

Contact Name: Ray Gudgeon
Organization:
Title: Managing Director
E-mail: ray.gudgeon@rga.com.au

More from Mechanical Power Transmission