Software promotes Simultaneous Product Development(TM).
Press Release Summary: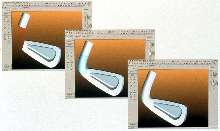 IX SPeeD(TM) combines digital modeling for mechanical design with tools for global design collaboration. It includes tools for modeling functional surfaces, managing assemblies, and creating reusable User-Defined Objects (UDOs). Watch, Copy, and Forward collaboration modes provide for synchronous and asynchronous group communication among globally dispersed design teams. Complete project archiving/restoring can be performed at any time.
---
Original Press Release:

ImpactXoft Announces New Features of IX SPeeD Software for Simultaneous Product Development


Software tools for product design and collaboration continue to evolve and break new ground in solid modeling technology

SAN JOSE, Calif., November 12, 2002 - ImpactXoft (San Jose, Calif.) unveils new features of its award-winning IX SPeeD(TM) software for promoting Simultaneous Product Development(TM). The software combines next-generation digital modeling for mechanical design with advanced tools for global design collaboration.

IX SPeeD software reflects updates that have been released on a monthly schedule over the last several months. In response to customer and analyst feedback, ImpactXoft has introduced new tools for modeling surfaces, for managing assemblies, for creating reusable User-Defined Objects (UDOs), and for the effective, electronic communication of intelligent design data.

IX SPeeD represents the latest technology for design authoring and product development in an Internet environment. It supports the practice of Simultaneous Product Development, a process in which members of worldwide development teams co-develop products in parallel to achieve dramatically reduced time to market.

Highlighted new capabilities in IX SPeeD include:

o Functional surfacing, which permits highly interactive, dynamic definition of complex surfaces. Functional surfacing is based on the IX Functional Modeling(TM) technology, ImpactXoft's trailblazing approach to improving the usability of computer-aided design tools.

Functional surfaces operate according to rules built into the software that govern how surfaces should react as a design evolves. As the designer defines the curves that shape and position surfaces, the software automatically generates the surface geometry and establishes powerful associative relationships. The result is that designers can create and revise sculptured surfaces on the fly without incurring the penalties associated with breaking modeling constraints. The rules-based nature of IX SPeeD sets the software apart from traditional history-based parametric modelers, which are cumbersome and difficult to learn.

o A novel approach to assembly modeling, which seamlessly integrates both in-context and out-of-context design. Multiple bodies can be built from scratch within a single assembly file, or parts can be modeled separately and then inserted into an assembly or subassembly. The assembly file can be updated dynamically with ImpactXoft's intelligent linking system.

With this new approach, the software supports the practice of true top-down design, a longtime goal for product developers. Designers can make large-scale, interface-based changes to assembly models - for example, can add parts, edit parts, reposition parts, constrain parts, or even delete parts - without the time-consuming effort required to rebuild mating interfaces that define how the parts come together. Radical modifications to an assembly late in development are no longer prohibitive, since they do not carry the price tag of expensive rework associated with traditional modeling systems. IX SPeeD is also the only software that allows collaborative assembly modeling over the Internet.

Assembly data that is shared by one project member can merge seamlessly into other project members' digital models because the shared data preserves the positioning information inherent to each part.

o User-Defined Objects (UDOs), which offer engineering organizations a way to create their own library of customized parts with embedded functional intelligence. Designers configure specialized UDOs - for instance, a rib pattern that codifies a company's valuable internal knowledge about reinforcement strength - from ImpactXoft's standard set of functional features. Functional features encapsulate rules governing how elements such as ribs should behave in a design and manufacturing context, so they automatically generate and adapt their own geometry as a solid model evolves.

Customized UDOs have the same power to carry their own functional and behavioral intelligence, and they can be organized in easy-to-use XML and HTML catalogs in IX SPeeD, which with a simple click can tell the computer what to do. ImpactXoft's UDOs constitute a new type of digital equipment for storing even the most sophisticated design concepts so they can be applied across multiple projects.

Along with its revolutionary approach to digital modeling, ImpactXoft offers a collaboration system that assumes an Internet environment as the de facto context for communication among globally dispersed product development teams. IX SPeeD contains many enhanced security and role management tools that allow project control at the granular level of design entities. New collaboration modes called Watch, Copy, and Forward increase the options for synchronous and asynchronous group communication. In addition, complete project archiving and restoring can be performed at any time.

"Clearly, ImpactXoft is listening and responding to the voice of the customer," says David Burdick, president of Collaborative Visions. "ImpactXoft continues to make Functional Modeling into a robust proven technology that enables customers to get the right product to market in the shortest time."

"We see no end to the contributions that our Functional Modeling technology can offer to engineering companies," says Attilio Rimoldi, president and CEO for ImpactXoft. "The IX SPeeD product is a modeling system that was expressly created to anticipate the pressures of Internet time. As our software matures, it will become the clear choice for design teams that must beat their competitors to market with exceptional products."

About ImpactXoft
ImpactXoft is a private, venture-funded software company introducing innovative applications that change the way people and companies develop products. The IX SPeeD(TM) Suite is an award-winning enterprise solution for Simultaneous Product Development(TM) (SPD), enabling all constituents involved in the product lifecycle to concurrently design, modify, evaluate, and produce quality products with unprecedented speed. Based on a web-centric architecture and proprietary technologies, IX SPeeD revolutionizes the way designs are created, shared, and ultimately manufactured, empowering companies to drastically reduce their time to market and gain a competitive edge. ImpactXoft has developed IX SPeeD Suite in partnership with Toyota Caelum Inc. leveraging the experience and know-how of both companies.

For more information, visit www.impactxoft.com


More from Materials