Software Module can improve system efficiency by up to 99.9%.
Press Release Summary: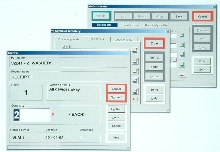 Replenishment Module for FastPic4 inventory management software optimizes restocking sequence automated storage and retrieval systems by pre-positioning system to proper storage location. It can manage multiple work zones where several different types of storage and retrieval systems are used in single operation. Receipts or parts lists can be created on host system and downloaded to storage and retrieval system software. Software runs on Windows 95/98/NT and 2000.
---
Original Press Release:
New Fastpic4 Replenishment Module Reduces Industrial Storage and Retrieval Man-Hours

The new Replenishment Module for FastPic4 inventory management software from FastPic Systems reduces stocking man-hours by improving operator productivity and system throughput in industrial manufacturing, distribution and warehousing applications.

The Replenishment Module optimizes the restocking sequence automated storage and retrieval systems by pre-positioning the system to the proper storage location. For example, as operators place a specific item into the system for storage, the Replenishment Module software concurrently processes the location information for the next item in the series to reduce system and operator dwell time.

Using the Replenishment Module operators can create receipts or parts lists, in three ways. Lists can be created on a host system and downloaded to the storage and retrieval system software. They can also be created in FastPic4 software using the manual data entry method, or created on the fly using the scan mode feature.

The scan mode feature, which uses bar code scanning technology, is an efficient method of batching replenishment or return items and can improve overall system efficiency by up to 99.9 percent.

FastPic4 software is designed to manage virtually all manual and automated storage and retrieval systems including shelving and racks, pick light systems, horizontal carousels, and vertical storage devices. The software can also manage multiple work zones where several different types of storage and retrieval systems are used in a single operation.

The software runs on Windows 95, 98, NT, and 2000. It supports any TCP/IP network and is SQL/OBDC enabled for easier, faster database connectivity. Features such as bar code scanning, bulk storage management, paper pick lists, pick banding, continuous batch picking, and a wide selection of supervisory reports and options are also available. The Standard Interface Protocol provides an efficient "plug & play" direct link between host systems. With this feature, users can download orders, receipts, and cycle count transactions, and import part and kit numbers.

FastPic Systems, a company of the Kardex AG of Zurich, Switzerland Group, is a leading developer of software for automated storage and retrieval system operation. This group is a manufacturer and integrator of a broad range of AS/RS technologies including vertical lift modules (VLMs), vertical and horizontal carousels. For more information on the Replenishment Module, call 207-854-8663 or visit the FastPic Systems web site at www.FastPicSystems.com.

FastPic Systems

Inventory Management Software Systems

41 Eisenhower Drive / Suite A / Westbrook, ME 04101

Phone 800-897-8379 / 207-854-8663 / Fax 207-854-1610

www.FastPicSystems.com
More from Fluid & Gas Flow Equipment