Software manages device programming process.
Press Release Summary: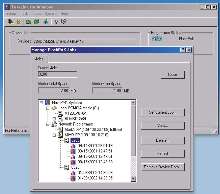 TaskLink v5.0 integrates programming operation throughout engineering, NPI, and manufacturing processes and includes network communication for Data I/O FlashCORE(TM) based programming systems. FlashCORE high-speed programming architecture underlies automated inline programming system ProLINE-RoadRunner(TM), high-speed offline-handler PS300(TM) FlashCORE, and FlashPAK(TM) desktop programming systems.
---
Original Press Release:

Data I/O® Leverages Network Communications for Streamlining Product Life Cycles with TaskLink(TM) v5.0


Redmond, WA, June 10, 2003 - Data I/O® Corporation (NASDAQ:DAIO), the leading provider of manual and automated programming systems today announced the release of TaskLink v5.0, for managing the device programming process. This new version of TaskLink extends the capabilities of Data I/O's Connected Programming Strategy by further integrating the programming operation throughout engineering, NPI and manufacturing processes.

TaskLink v5.0 includes network communication for Data I/O FlashCORE(TM) based programming systems. Additional features in the new TaskLink software heighten control and security of business IP (intellectual property) in the manufacturing process.

New device technologies supported by TaskLink v5.0 include feature support for programmable NAND Flash devices and programmable Microcontrollers. These device-specific features streamline product development cycles by providing design and prototyping teams with tools to optimally program each device.

In a recent survey of product design and manufacturing companies conducted by Acuity Incorporated, 62% expressed the need to improve new product development processes, reduce cycle times, and improve collaboration between the company and suppliers and vendors.1

"In today's virtual corporations, the process of transitioning new and updated product designs from engineering to manufacturing is the critical key to success. With TaskLink's easy-to-use Windows® environment, programming task files for new product designs can be seamlessly transferred from the designer's desk in the U.S., to a prototyping team in Mexico, and then to the factory in China, for example. The file management capabilities of TaskLink, leveraged with network communications, eliminate the extra time and costs associated with manual release processes," said Megan Miller, Product Manager at Data I/O Corporation. "These programming task files often contain sensitive information related to product features or serial numbers. With Administrator password control, these files can be secured against unauthorized editing. By transferring files into production over the network, companies can take advantage of network based encryption to further enhance security."

Easy Upgrades to TaskLink v5.0

Data I/O programmers are the most frequently used programming equipment in the world, and the majority of users are already familiar with Task creation and management with earlier versions of TaskLink for Windows. TaskLink v5.0 will ship as a standard in new systems beginning June 25, 2003. Previous versions of TaskLink are easily upgradeable to TaskLink v5.0.

Data I/O's Connected Programming Strategy

The connected programming strategy rests on the ability to easily communicate and seamlessly transfer algorithms, data files, and programming profiles up and down the supply chain. Data I/O's vision is lean manufacturing based on just-in-time programming, minimized inventory, and flexible manufacturing.

FlashCORE is the high-speed programming architecture underlying Data I/O's automated inline programming system ProLINE-RoadRunner(TM), the high-speed offline-handler PS300(TM) FlashCORE, and FlashPAK(TM) desktop programming systems.

ProLINE-RoadRunner(TM): The world's fastest and most cost-effective inline programming system

The ProLINE-RoadRunner, an automated inline programming feeder, is targeted for high-volume users of high-density Flash memory devices and Microcontrollers, including cellular phone, automotive, and consumer electronics manufacturers. The RoadRunner removes devices from tape, programs two to four devices in parallel, then delivers the programmed parts to the pick-up point of the placement machine.

PS300(TM) FlashCORE: Automated programming system for high volume programming

The PS300FC automated programming system accommodates up to twelve programmers (up to 48 programming sites), surpassing any throughput currently available. Combining FlashCORE programmers with a high-speed handler, PS300 has a unique architecture that delivers the lowest programming cost in offline programming operations. This is accomplished by a combination of exceptional programming speed, reliable handler platform, system scalability, and software-based process control.

FlashPAK(TM): Optimized for High-Density Flash Device Programming

Data I/O FlashPAK is a high-speed gang desktop programming system for prototype and production programming environments. The FlashPAK programming system is designed to program the leading high-density Flash memory and Microcontroller devices at near theoretical minimum programming times and at the lowest cost per programmed part. FlashPAK complements the RoadRunner and PS300 systems, and fulfills the Data I/O Connected Programming Strategy, by providing consistent use of programming architecture and algorithms from initial design through prototype and production.

1 "Surviving and Thriving in the Current Economy, 2003 Survey of Western Region Product Design and Manufacturing Companies," Acuity Incorporated, Portland, Oregon.

About Data I/O

Celebrating 30 years of innovative leadership in the device programming industry, Data I/O Corporation® (NASDAQ: DAIO) provides manual and automated device programming systems that specifically address the requirements of engineering and manufacturing operations. FlashCORE(TM) is the architecture behind a family of Flash Programmers that deliver the highest throughput and lowest cost per programmed device. For Flash, Microcontroller and Logic device support, the MultiSyte and UniSite families provide universal support and versatility to address a wide variety of programming needs. Data I/O Corporation is headquartered in Redmond, Washington, and has sales and service offices worldwide. For more information, see www.dataio.com or call 800-426-1045.

All company and product names mentioned may be trademarks or registered trademarks of their respective holders and are used for identification purposes only. The matters discussed in this news release include forward-looking statements that are subject to risks and uncertainties that may cause actual results to vary significantly. These risks include market and competitive factors, and other risks described in the Company's most recent annual report and/or in any of its other filings with the Securities and Exchange Commission. The Company assumes no obligation to update the information in this release. Reference to the Company's website above does not constitute incorporation of any of the information thereon into this press release.

More from Laboratory and Research Supplies and Equipment