Software is suited for mobile e-business applications.
Press Release Summary: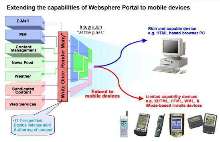 WebSphere® Everyplace(TM) Service Delivery v5 consists of offerings that combine and integrate entire IBM middleware infrastructure needed to connect, adapt, manage, transform, and scale Web applications and legacy data into pervasive applications. It helps ensure future interoperability with networks, devices, and applications through adherence of industry standards. Software includes WebSphere Everyplace Mobile Portal and WebSphere Everyplace Mobile Device Update.
---
Original Press Release:

WebSphere Everyplace Service Delivery V5 Offers Expanded Opportunity into the Mobile e-business World


Overview
WebSphere® Everyplace(TM) Service Delivery V5 is a family of offerings that combines and integrates the entire IBM middleware infrastructure needed to connect, adapt, manage, transform, and scale today's Web applications and legacy data into tomorrow's pervasive applications.

WebSphere Everyplace Service Delivery V5 helps ensure future interoperability with networks, devices, and applications through adherence of industry standards.

Mobile portals are an important strategy for wireless carriers who want to gain market advantage, increase customer loyalty, and increase revenues by leveraging the data market. To drive subscriber growth, it is essential for a mobile portal solution to offer easy-to-use services and applications to attract and retain customers, as well as provide an environment that simplifies integration by application and content providers for delivery of their services.

WebSphere Everyplace Mobile Portal is an advanced content adaptation product that addresses several important elements of a mobile portal strategy and includes WebSphere Portal as one of its components.

WebSphere Everyplace Mobile Device Update is a service offering available with the WebSphere Everyplace Service Delivery V5. It is complementary to the Mobile Portal and may be purchased to provide eligibility for updates on additional device support as they become available.

Key prerequisites

· Passport Advantage® Agreement

· AIX® V5.1, or V5.2 or Solaris V2.8, or V2.9

Planned availability dates

· April 30, 2004: Electronic software and documentation delivery

· May 28, 2004: Media and documentation

At a glance

WebSphere Everyplace Service Delivery V5 includes:

· WebSphere Everyplace Mobile Portal

- Structure for a Web site or Carrier home page

- Structure for portlet applications

- Support for device-independent markup language ("write once, render many")

- Tooling support for application development

· WebSphere Everyplace Mobile Device Update

- Eligibility of updates for additional device support as they become available

Related