Software is suited for industrial coordinate measurement.
Press Release Summary: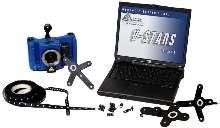 V-STARS v4.4 enables 3D data collection and analysis with image/point processing, support for multiple coordinate systems, CAD file support, and best-fit capability for point cloud-to-surface model analysis. Software automatically processes collected images and extracts required 3D data, which can then be aligned into object coordinate system, compared to previous measurements, analyzed, or exported. It also offers wireless interface for INCA3 cameras.
---
Original Press Release:

Geodetic Systems, Inc. Ships New V-STARS 4.4 Software for Industrial Coordinate Measurement


Melbourne, FL -- January 25, 2005 -- Geodetic Systems, Inc. (GSI), a leading provider of portable 3D coordinate measurement systems for industrial measurement, today announced it is now shipping V-STARS 4.4 software. V-STARS 4.4 extends its 3D data collection and analysis capabilities with faster image/point processing, support for multiple coordinate systems, improved CAD file support, and a new best-fit capability for point cloud-to-surface model analysis.

V-STARS 4.4 also delivers product features boosting the performance of the INCA3 digital camera, V-STARS single-camera and multi-camera mode. GSI develops and markets V-STARS photogrammetry systems and the state-of-the-art INCA3 photogrammetric camera for applications in aerospace, power generation, automotive, shipbuilding, and more.

In a typical photogrammetry session, the INCA3 digital camera is used to capture photographs of large objects for inplace measurement and inspection. V-STARS software automatically processes the collected images and extracts the required 3D data. Once processed, the 3D data can be aligned into the object coordinate system, compared to previous measurements, analyzed with built-in V-STARS analysis tools, or exported to other CAD/CAE/CAM software.

V-STARS can work with CAD models for surface inspection operations. Users can examine points, camera stations, intersection angles, surfaces, and text showing point XYZ coordinate information and analysis results. V-STARS 4.4 includes support for multiple coordinate systems, and expands its data translation lineup to include a VDA data translator, and a new IGES import function supporting a wider range of surface types.

New Features for INCA3

For online operations, the INCA3 camera can be connected wirelessly or via a thin, combined power/network cable to the laptop computer. V-STARS 4.4 introduces a new wireless interface for INCA3 cameras that works similarly to the wired connection. Pictures can be taken from the camera remotely or locally in any combination, then transferred to V-STARS and displayed in a window for review. Other V-STARS enhancements include support for the additional power levels available for the INCA3 camera's internal strobe. M-mode (multi camera) operation has been streamlined for the INCA3 camera, which expedites the time to take and measure a picture.

New Best Fit Capability

V-STARS now interfaces to Geomagic Qualify V7"§¡¦s best-fit to surface analysis toolset. When V-STARS is connected to Qualify, all points triangulated in multi-camera mode can be automatically translated and best-fit to the current reference model. The transformation between the point cloud and the model determined by Qualify is then applied to the triangulated data set in V-STARS. Points can also be sent manually to Geomagic Qualify by selecting them in either the points list or graphical views. As in the automatic mode, these points are best-fit to the reference model in Qualify and the resulting transformation is applied to the source 3D data set in V-STARS. Geomagic Qualify V7 is developed by Raindrop Geomagic (Research Triangle Park, NC).

Improvements for Single Camera Mode

In V-STARS 4.4, the bundle adjustment (which processes the pictures to produce the measured points) is significantly faster. Small bundles (tens of pictures, hundreds of points) are at least 2-5 times faster. Larger bundles (hundreds of pictures, thousands of points) are 10-50 times faster. As part of this development, GSI created a program to estimate the time required for large bundles which is located in the HELP directory. Operators input their computer speed (i.e. 2GHz) and bundle parameters (number of pictures, points, iterations, etc.) and the program will calculate the estimated time and display the results in a spreadsheet. Other new single-camera features include support for more than 999 pictures in single camera mode, editing of design sigma points, and scale bar enhancements.

V-STARS Multi Camera Mode Enhancements

V-STARS 4.4 introduces a new Keyspan Remote Trigger, which is a radio remote control that interfaces directly with the software and cameras. The Trigger button at the top of the remote allows the operator to trigger multiple cameras up to 30 feet away from the computer running V-STARS. While probing, the Keyspan Remote can also be used to delete the last probe point. Installation of the Keyspan Remote is completed at GSI.

A V-STARS user may perform PRO-SPOT projector measurements, probe measurements, or simply AutoMatch targets during a single V-STARS project, and then alternate between these tasks. GSI has implemented a new Measurement Type Toolbar that makes it easier to accomplish these tasks. The toolbar consists of three icons for Probe, PRO-SPOT, and AutoMatch measurements respectively. Now at the push of a button, the optimal measurement setting configuration is established immediately.

Primary Use of Photogrammetry

V-STARS photogrammetry systems are primarily used for in-place measurement and inspection of large objects in unstable industrial environments, where conditions like vibration, movement, and extreme temperatures exist and pose problems for other types of metrology instruments. Users can shoot field measurements with minimal downtime to others working concurrently on an assembly such as a large aircraft. A V-STARS system consists of one or more INCA3 cameras, a notebook computer with powerful, proprietary V-STARS software, and various accessories. The entire solution can be carried onboard an airplane, or checked as standard baggage¡K to go from factory floor to offsite plants, or anywhere in the world.

What is Metrology? What is Photogrammetry?

The science of measurement is known as the field of metrology. Engineers, manufacturers, scientists, and quality control technicians utilize measurement technology in their own unique disciplines.

Photogrammetry is a three-dimensional coordinate measuring technique that uses photographs as the fundamental medium for metrology. GSI offers the most comprehensive product line based on industrial photogrammetry in the marketplace.

About Geodetic Systems, Inc.

Geodetic Systems, Inc. (GSI) is an international supplier of industrial photogrammetry solutions for the industrial measurement/metrology marketplace. GSI develops and markets the V-STARS family of 3D coordinate measurement systems for users involved in measurement and inspection applications in diverse industries such as aerospace, nuclear power, automotive and shipbuilding. INCA3, the company's flagship product, is a state-of-the-art digital photogrammetry camera with many progressive features. GSI distributes its products via a worldwide network of industry partners. Founded in 1977, the privately-held company is located in Melbourne, Florida. For more information, GSI can be reached at 321-724-6831 or visit their website at www.geodetic.com.

INCA3, V-STARS, Picture Perfect Measurements are trademarks or registered trademarks of Geodetic Systems, Inc. All other brand and product names are trademarks or registered trademarks of their respective owners.

More from Agricultural & Farming Products