Software integrates plant applications with ERP systems.
Press Release Summary: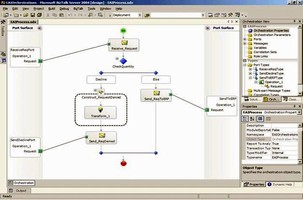 Proficy(TM) Enterprise Connector v1.5 provides bi-directional enterprise integration between Proficy and Enterprise Resource Planning (ERP) systems. Specifically, it enables mapping of external Business Systems requests to/from Proficy Information Architecture so that businesses can make informed decisions. While real-time capability lets manufacturers establish flexible production operations, software leverages ISA-95 standard and automatically generates B2MML schemas and message types.
---
Original Press Release:

Proficy(TM) Enterprise Connector from GE Fanuc Extends Plant Applications Integration with Enterprise Business Systems



Software Provides Corporate Management With Access To Accurate, Timely Plant Data Essential To Strategic Corporate Initiatives

ISA-95 Standard Drives Business Systems Interoperability

CHARLOTTESVILLE, Va. - April 27, 2006 - GE Fanuc Automation, Inc., a unit of GE Industrial, has announced the release of Proficy(TM) Enterprise Connector 1.5, which provides bi-directional enterprise integration between Proficy and Enterprise Resource Planning (ERP) systems, such as SAP. The introduction of this real-time capability allows manufacturers to establish flexible production operations and remain competitive in this global economy.

As an extension of GE Fanuc's Proficy Plant Applications integrated suite of Production Management Solutions, Enterprise Connector enables the mapping of the external Business Systems requests to/from the Proficy Information Architecture. The information from manufacturing facilities is now available to the business to make more rapid, informed, business decisions.

"We have helped industry-leading manufacturers connect their enterprise applications to our Plant Applications systems many times over the years to drive their corporate quality, productivity and profitability initiatives," said John Leppiaho, Senior Product Manager at GE Fanuc. "By utilizing industry standards, the Enterprise Connector allows us to package our extensive ERP integration experience into a powerful, standards-based, off-the-shelf product which makes these efforts repeatable and supportable for us and our customers on a global scale."

The Proficy Enterprise Connector leverages the ISA-95 standard to define the interface between an enterprise's business and manufacturing systems through the XML-based B2MML (Business to Manufacturing Markup Language) schema. It automatically generates B2MML schemas and message types for immediate use in orchestrations and/or mapping. It exchanges messages from all of the various, connected business applications with Proficy, enabling ERP visibility into Production Management real-time data for material consumption, performance reporting, schedule execution and other supply chain and/or enterprise-level functions.

Proficy Enterprise Connector is supplied, out-of-the-box, with a number of B2MML-based templates to jumpstart the integration process and speed a user's Time-To-Value. The B2MML-based templates can be tailored to meet the specific needs of a customer, site or implementations of an ERP system, which is crucial according to Leppiaho.

"In manufacturing, there's no such thing as One-Size-Fits-All," he said. "You need to be able to support the unique requirements of an industry, a customer and a specific site while providing as much stable, reusable technology as possible. We've made a living out of doing that with our Plant Applications products where we support Continuous, Batch, Hybrid and Discrete production environments with the same solution set. Any manufacturer considering a standard solution for plant, business unit or enterprise-level roll-outs needs to consider how well their solution can support all of these different environments."

Proficy Enterprise Connector is available immediately.

About GE Fanuc Automation
GE Fanuc Automation, a joint venture between GE and FANUC LTD of Japan, delivers automation hardware and software designed to help users reduce costs, increase efficiency and enhance profitability. With solutions and services catering to virtually every industrial segment, GE Fanuc Automation provides a diverse array of capabilities and products, including controllers, embedded systems, advanced software, motion control, CNCs, operator interfaces, industrial computers, and lasers. Headquartered in Charlottesville, VA, GE Fanuc Automation is a part of GE Industrial and combines the diverse global strengths of the GE family with the local presence customers need to design, develop and maintain their automation investments.

For more information, visit www.gefanuc.com or contact: GE Fanuc Information Center, P.O. Box 8106, Charlottesville, VA 22906, Phone: (800) GE FANUC (800-433-2682), Fax: 434-978-5205, e-mail: gefanuc@gefanuc.com.

More from Cleaning Products & Equipment