Software gives remote users access to critical data.
Press Release Summary: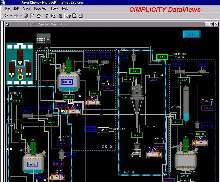 CIMPLICITY® DataViews® software permits graphical visualization and control of multiple-machine production through web browser over Internet or Intranet. Users access application without additional software since processing is performed on server computer. Users can create Human Machine Interface with their chosen programming languages and platforms using this scaleable development tool.
---
Original Press Release:

CIMPLICITY® DataViews® from GE Fanuc Provides New Web Access To Critical Data, Lowering Design Costs and Driving Productivity


CHARLOTTESVILLE, Va.-January 16, 2003 - GE Fanuc Automation North America, Inc., an affiliate of GE Industrial Systems, has introduced a new version of CIMPLICITY® DataViews® software - which allows remote and casual users to access critical data via a standard web browser, helping to drive productivity at a lower design cost. This new Thin Client technology permits graphical visualization and control of single- and multiple-machine production through a standard web browser over the Internet or Intranet.

With this new version, CIMPLICITY DataViews users can expand access to their critical information with standard browsers and networking. New users can access the application without additional software being installed, configured, maintained, or upgraded on the new computer - which achieves near zero total cost of ownership. All CIMPLICITY DataViews software processing is performed on the server computer, so the client computer needs only a browser.

For quick implementation of Intranet applications, CIMPLICITY DataViews comes with a web server. Concurrent user licensing is maintained on the server - as soon as a user finishes accessing the system, that license is free for the next user. The new web access feature will be available on various Unix® platforms and on a Microsoft Windows® platform in the first quarter of 2003.

CIMPLICITY DataViews, part of the CIMPLICITY Collaborative Production Management (CPM) software suite, helps users build a powerful, yet easy-to-use dynamic, graphical software display for visualizing information used to control and monitor real-time processes. Programmers can use CIMPLICITY DataViews to create their own Human Machine Interface (HMI) while maintaining the convenience and flexibility of their chosen programming languages and platforms. This high-performance, scaleable development tool provides monitoring and control of complex systems in industries ranging from petrochemical and power generation to maritime and telemetry. With sophisticated graphics capabilities in an easy-to-use environment, CIMPLICITY DataViews, with web technology powered by GO-Global® from GraphOn Corporation, can help speed decision-making, increase productivity and lower design costs.

CIMPLICITY software from GE Fanuc provides the software foundation that, in combination with domain experience and Six Sigma methodologies, can aggregate, deliver and facilitate dynamic business decision-making within the entire manufacturing environment and can be extended to manufacturers' suppliers and customers. The CIMPLICITY CPM software suite is based on 10 years of GE Fanuc development, integration and experience, culminating in a new architecture with powerful collaborative production management capabilities. Functionality includes: machine programming and visualization, manufacturing execution systems, supply chain optimization and collaboration, quality management, remote monitoring and diagnostics, enterprise asset management, business intelligence, and regulatory compliance documentation.

About GE Fanuc Automation
GE Fanuc Automation North America, Inc., is a leading global supplier of automation solutions and is a joint venture between GE and FANUC, Ltd. of Japan. GE Fanuc products and services include the iFIX® HMI/SCADA platform, ROI-enhancing Plant Intelligence systems, CIMPLICITY® collaborative production management software, nano to high-end PLCs, a wide range of CNCs, motion control, operator interfaces, industrial computers, lasers, and a wide range of integration and customer support services. Headquartered in Charlottesville, Va., GE Fanuc is part of GE Industrial Systems. For more information, visit www.gefanuc.com.

About GE Industrial Systems
Since the founding of the General Electric Company by Thomas Edison in 1882, GE Industrial Systems has been known for technical innovation. GE Industrial Systems has over 7,600 U.S. and foreign patents on products that help provide peace of mind for people, the properties they own and their workplaces. In 2001 alone, GE Industrial Systems filed more than 200 U.S. and 340 foreign patent applications.

GE Industrial Systems spans the globe as an industry leader in integrated industrial, electrical and security equipment, systems and services. The business brings to customers the latest technologies that are used to distribute, protect and control energy and equipment, and to provide premise management. GE provides innovative product and service solutions for commercial, industrial, residential and utility customers. For more information visit the website at: www.geindustrial.com.

About GE
The General Electric Company (NYSE: GE) is a diversified technology and services company dedicated to creating products that make life better. From aircraft engines and power generation to financial services, medical imaging television programming and plastics, GE operates in more than 100 countries and employs more than 300,000 people worldwide. For more information, visit the company's Web site at www.ge.com.

For more information, visit www.gefanuc.com or contact: GE Fanuc Information Center, P.O. Box 8106, Charlottesville, VA 22906, Phone: (800) 648-2001, Fax: 434-978-5205, e-mail: gefanuc@gefanuc.com.

More from Architectural & Civil Engineering Products