Software facilitates eddy-current inspection.
Press Release Summary: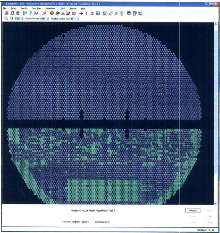 Eddynet Inspection Management System - Balance of Plant (EIMS-BOP) organizes, tracks, and creates reports of eddy-current inspections of heat exchangers in balance-of-plant applications. Software, with tubesheet builder, aids users in building maps of tubesheets, planning their inspection, and managing analysis results. Single relational database stores all inspection information from test plans to analysis results. Software handles unlimited individual test plans.
---
Original Press Release:
Zetec Introduces Software for Inspection Planning and Management with Tubesheet Builder - EIMS-BOP

ISSAQUAH, WASHINGTON - Zetec, Inc., a leading supplier of nondestructive test (NDT) equipment introduces the Eddynet Inspection Management System - Balance of Plant (EIMS-BOP), software for inspection planning & management with tubesheet builder. Zetec's new software product helps, managers, engineers, Level III inspection supervisors, and inspection services personnel to build a map of their tubesheets, plan their inspection, and manage the analysis results. Data Managers are able to complete complex closeout tasks and create query reports without learning SQL. A single powerful relational database is used to store all inspection information from test plans to analysis results. Users of other Zetec data management products will find the EIMS-BOP interface familiar and easy to learn.

Inspection planning using EIMS-BOP begins with the creation of a database from a model file with all necessary information about the unit and how to test its tubes. The primary work area is a tubesheet map where the inspection's Data Manager inserts predefined tube symbols onto the "master" map creating a test plan. The software then divides the inspection into smaller, more manageable components. EIMS-BOP is capable of unlimited individual test plans. Test plans can be further divided into sections or groups for concentrating on specific tubesheet areas for special testing or more in-depth testing.

About Zetec

Zetec, Inc. has grown to be the world's leading supplier of eddy current equipment, supplies, software products and related customer and inspection services. Our unique portfolio provides seamless solutions for all aspects of eddy current technology - from automatic probe manipulation, to probe design and manufacture, instrumentation, and training. Zetec is located near Seattle in Washington State, USA, with sales through a worldwide network of manufacturer's representatives. Zetec provides support for every aspect of eddy current testing used in mission critical applications in industries such as aerospace, nuclear and fossil energy, component manufacturing, and petrochemical plants.

More information on Zetec and its products can be found at www.zetec.com or Customer Service at Zetec, Inc., 1370 NW Mail Street, Issaquah WA, USA, 98027 - Phone: 425 392 5316 or Fax: 425 392 2086.
Related