Software facilitates development of vision applications.
Press Release Summary: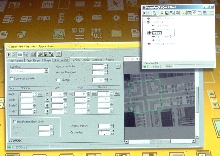 ActiveX-based VisionPro provides flexible, graphical programming environment in which machine-vision applications are prototyped and developed. Software is available for frame grabbers and packaged systems requiring no PC. Each system has comprehensive library of vision software tools. It can be used by systems integrators, OEMs, and manufacturing engineers. Proof-of-concept stage to completed system can be accomplished in less than one week.
---
Original Press Release:
Cognex Introduces Activex Based Machine Vision Software Development Environment

Natick, MA, January 10, 2002-Cognex Corporation (NASDAQ - CGNX), the world's leading supplier of machine vision systems, today introduced VisionPro, an ActiveX-based software development environment that dramatically speeds the development of advanced vision applications. Ideal for systems integrators, OEMs, and advanced manufacturing engineers who need to minimize development time, VisionPro provides a flexible, graphical programming environment in which applications can be prototyped and developed in a fraction of the time it takes with conventional programming.

"Going from the proof-of-concept stage to getting a completed system up and running on a customer's plant floor can take us up to a month with C++ programming," said John Lee from Zmation, Inc., a Portland, Oregon-based automation systems integration firm. "With VisionPro, it will take less than a week due to its ActiveX compliance."

"In addition to enabling fast prototyping, many users want the flexibility to develop highly customized vision solutions," said Justin Testa, Senior Vice President of Marketing for Cognex. "VisionPro eliminates the tradeoff between ease of use and flexibility, allowing users to easily go between graphical development and lower-level, advanced programming languages."

VisionPro provides a drag-and-drop graphical interface for prototyping vision applications using ActiveX controls. Once configured, these controls are easily converted into Visual Basic, where they can be used directly in a deployable application. Customized solutions can also be developed using Visual Basic or C++. VisionPro's COM/ActiveX software architecture enables third party components for process control, I/O, and machine control to be easily added to the vision application. VisionPro is available on a variety of Cognex frame grabbers, including the company's new digital frame grabber with high resolution CMOS camera, as well as packaged systems requiring no PC. Each system features a comprehensive library of proven Cognex vision software tools, including the company's industry-leading PatMax® technology for locating objects despite changes in angle, scale, or appearance.

VisionPro is currently available from Cognex. Cognex Corporation designs, develops, manufactures, and markets machine vision systems, or computers that can "see." Cognex is the world's leader in the machine vision industry, having shipped more than 150,000 machine vision systems, representing over $1 billion in cumulative revenue, since the company's founding in 1981. Cognex's Modular Vision Systems Division, headquartered in Natick, Massachusetts, specializes in machine vision systems which are used for automating the manufacture of a wide range of discrete items and for assuring their quality. Cognex's Surface Inspection Systems Division, headquartered in Alameda, California, specializes in machine vision systems which are used for inspecting the surfaces of products manufactured in a continuous fashion, such as metals, paper, and plastics. In addition to its corporate headquarters in Natick, Massachusetts, Cognex also has regional offices located throughout North America, Japan, Europe, and Southeast Asia. Visit Cognex on-line at www.cognex.com.
More from Cleaning Products & Equipment