Software delivers out-of-the-box e-commerce solution.
Press Release Summary: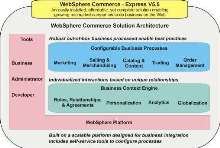 Built on open standards, WebSphere® Commerce - Express v5.5 provides midmarket companies with licensing that gives users everything needed for production, staging, and site development. Design and development system, based on WebSphere Studio Application Developer v5.1, includes tools to create and test store under Integrated Development Environment, tools that support rules-based personalization, and tool for building and extending Enterprise JavaBeans.
---
Original Press Release:

IBM WebSphere Commerce - Express and WebSphere Commerce - Express, Developer Edition V5.5: Deliver Fast, Affordable e-commerce Solutions for Midmarket Companies


At a glance

WebSphere Commerce - Express delivers the following benefits:

o Affordable but complete, with all-in-one licensing that gives you everything you need for production, staging, and site development at one attractive price

o Easily installed, with a streamlined process that gets you ready to create and customize your store site quickly and in a minimal number of steps

o Ready to go with the capabilities you need to get started out-of-the-box, while providing many advanced features you can grow into

o Easy to administer, with tools that let midmarket customers manage their site effectively without special technical skills

o Built on open standards, freeing your company from proprietary platform restrictions

For ordering, contact:

Your IBM representative or the Americas Call Centers at 800-IBM-CALL (Reference: YE001).

Overview

WebSphere® Commerce - Express V5.5

WebSphere Commerce - Express is an easily installed, affordable, yet complete solution designed to help growing midmarket companies do business on the Web. Jump-start your online presence with the basics then grow with the industry leader as your needs change and grow. WebSphere Commerce - Express is:

o Affordable but complete, with all-in-one licensing that gives you everything you need for production, staging, and site development at one attractive price

o Easily installed, with a streamlined process that gets you ready to create and customize your store site quickly and in a minimal number of steps

o Ready to go with the capabilities you need to get started out-of-the-box, while providing many advanced features you can grow into

o Easy to administer, with tools that let mid-market customers manage their site effectively without special technical skills

o Built on open standards, freeing your company from proprietary platform restrictions

As part of the WebSphere Commerce V5.5 family, this offering shares many of its core attributes and can help midmarket firms:

o Strengthen and deepen business relationships

o Optimize sales, marketing, and brand experience

o Maximize efficiency and productivity across the value chain

o Respond and adapt with agility for competitive advantage

WebSphere Commerce - Express Developer Edition V5.5

Get a quick start on developing your store site by using WebSphere Commerce - Express Developer Edition V5.5. The tools that make up this product are also included with WebSphere Commerce - Express for use by one developer in support of site development and staging activities. WebSphere Commerce - Express Developer Edition is available should you have additional developers that need to use these tools.

This powerful design and development system, based on WebSphere Studio Application Developer V5.1 (WSAD), includes:

o Tools to create and test your store under the Integrated Development Environment (IDE) provided by WSAD

o Tools that support rules-based personalization

o A tool for building and extending Enterprise JavaBeans (EJBs)

Planned availability dates

September 16, 2003, electronic (U.S. English version for Microsoft(TM) Windows(TM) 2000)

September 30, 2003, electronic and physical (U.S. English versions)

October 30, 2003, electronic and physical (U.S. English and national language versions)