Software delivers design tool for fiber lasers and amplifiers.
Press Release Summary: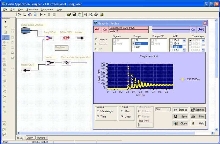 Liekki Application Designer v3.0 simulates and analyzes continuous wave and pulsed applications, including time domain effects, using erbium or ytterbium doped fibers as gain medium. Featuring transient analysis capability, time dependent signal sources, and optical modulators, software can calculate non-linear effects threshold and effect of refractive index variation with optical power density. It also enables visualization of SBS and SRS thresholds.
---
Original Press Release:

Liekki Application Designer V3.0 - Full Blown Design Tool for High Power Fiber Lasers and Amplifiers


LOHJA, June 10, 2005 - Liekki, the leading supplier of highly doped optical fibers, introduces Liekki Application Designer v3.0, an important upgrade to the popular simulation environment for fiber lasers and amplifiers with new transient analysis capability.

"Responding to market demand we continue to introduce a full suite of products dedicated to high power laser and amplifier applications." says Mr. William Willson, Liekki Vice President Marketing and Sales. "Liekki Application Designer v3.0 is a key element of our overall solution package. It provides our customers with long waited design and simulation capability for high power fiber applications. "Especially high power fiber lasers and amplifiers are of utmost interest for companies in the military, aerospace, industrial manufacturing and medical sectors. The need for a good design tool is big", he continues. "Liekki Application Designer 3.0 is the most effective and versatile simulation package focused on high power amplifier and laser applications. The software is able to simulate and analyze both continuous wave (CW) and pulsed applications (including time domain effects) using erbium or ytterbium doped fibers as the gain medium".

"Liekki Application Designer v3.0 builds on the successful v2.0 strengthened with new powerful features essential for system designers, optical engineers and research scientists" explains Dr. Mircea Hotoleanu, Product Manager for Liekki design software. "We now provide the ability to simulate the dynamic regime and transients of active components. This is powerful for designing amplifiers and pulsed lasers. New components such as time dependent signal sources and optical modulators have been added. Included in this upgrade is also the ability to calculate the non-linear effects threshold such as Brillouin scattering and Raman scattering and the effect of refractive index variation with optical power density. Finally we have enhanced the user interface and the reporting tools of our software, making it even easier to use."

Initial transient of a ring laser

Visualization of SBS and SRS thresholds

Liekki Application Designer v3.0 is available starting June 27, 2005 through Liekki (one copy of the standard version is free of charge for Liekki customers). The software is compatible with most standard PCs running Microsoft Windows operating systems. For further information, please contact our sales staff, email liekki@liekki.com, visit our website at www.liekki.com or visit our LAD Users Community at www.liekki.com/community.

About Liekki Oy

Liekki designs, manufactures and markets specialty optical fibers and fiber subassemblies (optical engines) for fiber amplifiers and lasers using its unique and proprietary Direct Nanoparticle Deposition (DND) technology. DND makes it possible to produce state-of-the-art highly doped fibers that minimize required fiber length, have high doping, large core-to-clad ratio, low photodarkening, flat refractive index profile, high efficiency and reduced nonlinear effects. Liekki fibers also have very good usability in terms of splicing properties, temperature and bending characteristics. Liekki products are applied in applications such as high power fiber lasers for industrial manufacturing, military and aerospace, medical applications, telecom amplifiers and ASE light sources.

Liekki invented, developed and commercialized a new, innovative nanoparticle process, Direct Nanoparticle Deposition (DND) for a wide range of industrial applications. Liekki has licensed DND to industrial customers for non-optical applications and will continue to do so.

Liekki is headquartered in Lohja, Finland. Liekki direct sales serves North America, Europe and Asia, supported by our representatives Apollo Electronics Co. Ltd. (China), Connet Fiber Optics Company Ltd. (China), Chon Sun Engineering Co. Ltd. (Korea), IKG Corporation (Japan) and FT Okura (Japan). Liekki products are also available globally through Thorlabs (www.thorlabs.com). For further information, please visit our website at www.liekki.com.

For more information, please contact:

Liekki

· Mr. William Willson, Vice President Marketing and Sales, tel. +301 706 0315, email william.willson@liekki.com,

· Dr. Mircea Hotoleanu, Product Manager (Design software), tel. +358 19 357 391, email mircea.hotoleanu@liekki.com, or

· Ms. Minna Salander, Marketing and PR, tel. +358 19 357 391, email minna.salander@liekki.com

More from Electrical Equipment & Systems