Software Defined Radio provides 4 RF receiver paths.
Press Release Summary: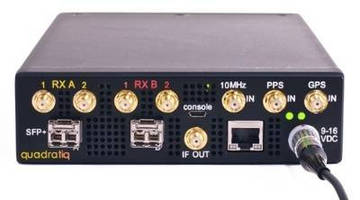 Combining four RF receivers supporting VITA49 into small form factor platform, Quadratiq™ offers wide RF tuning range of 70 MHz to 6 GHz with sub-octave pre-select filters. Multichannel unit supports RF channel bandwidths up to 50 MHz per receiver and max sample rate of 61.44 MS/sec. Measuring 8.42 x 5.75 x 1.61 in., radio integrates Xilinx® Zynq Z-7030 SoC, dual 10 Gigabit Ethernet interfaces through dual SFP+ ports, separate RJ45 Gigabit Ethernet interface, and web-based user interface.
---
Original Press Release:

Epiq Solutions Announces the Quadratiq(TM) Multichannel Software Defined Radio Platform



SCHAUMBURG, Ill., – Epiq Solutions, an engineering firm specializing in the development of flexible wireless communications systems, has announced Quadratiq™, their next generation advanced multichannel software defined radio (SDR) platform.  Combining four RF receivers supporting VITA49 in to a small form factor platform, Quadratiq™ offers a wide RF tuning range, multiple high-speed external data interfaces, and web-server based user interface for simplifying usage.



The Quadratiq™ platform provides the following features:



--  Four RF receiver paths (configured as two separately tunable phase coherent pairs)

--  RF tuning range between 70MHz and 6GHz with sub-octave pre-select filters

--  Supports RF channel bandwidths up to 50MHz per receiver (max sample rate of 61.44 Msamples/sec)

--  Integrated Xilinx® Zynq Z-7030 System on Chip (option for upgrading to Z-7045)

--  Dual 10 Gigabit ethernet interfaces provided through dual SFP+ ports

--  Supports unidirectional VITA49 streaming (UDP) over dual 10GbE interfaces

--  Separate RJ45 Gigabit ethernet interface for command, control, and serving up the web-based user interface

--  Integrated GPS receiver plus support for external synchronization to 10MHz and 1PPS inputs

--  Size: 8.42" x 5.75" x 1.61"



"Many of our customers have a growing need to digitize and stream multiple wideband RF signals in a compact form factor," said John Orlando, CEO at Epiq Solutions.  "Quadratiq provides an optimized solution that works out of the box to support this use-case, while opening the door to support additional user requirements."



The Quadratiq™ platform is in production now and shipping to customers.  For more information, please visit http://www.epiqsolutions.com/quadratiq.



About Epiq Solutions

Epiq Solutions designs and builds state-of-the-art wireless systems for both commercial and government applications. These applications include the detection, classification, and location of radio emitters, as well as real-time processing and decoding of Layers 1, 2, and 3 for numerous wireless radio standards (including 2G/3G/4G cellular). For more information regarding Epiq Solutions' products and services, please visit http://www.epiqsolutions.com.



Contact Information:

Lorin Sandler

sales@epiqsolutions.com

847.598.0218



Web Site: http://www.epiqsolutions.com



More from Fluid & Gas Flow Equipment