Software addresses requirements of plastics processors.
Press Release Summary: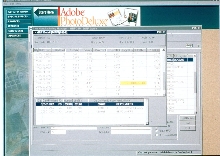 Available with 700+ system report formats, The Manufacturing Manager(TM) (TMM) manufacturing, distribution, and financial management software provides complete enterprise resource planning (ERP). TMM is configurable to match varying business processes and profiles with plastics-specific functionality. It provides solutions for scheduling, inventory, costing, MRP management, and data mining. Data can be analyzed on-screen, and drill-down features obtain further details.
---
Original Press Release:

The Manufacturing Manager(TM) by DTR Software International Provides Comprehensive ERP Software Solution Exclusively for Plastics Processors


JACKSONVILLE, FL - The Manufacturing Manager(TM) (TMM), developed by DTR Software International, is a comprehensive manufacturing, distribution and financial management software that addresses the unique requirements of the plastics processing industry. A complete enterprise resource planning (ERP) solution, TMM is configurable to match varying business processes and profiles -from shoot and ship to custom molders - with plastics-specific functionality for all aspects of manufacturing, including scheduling, inventory management, costing, materials requirement planning (MRP) and data mining.

Solutions for Scheduling
The production scheduling feature of TMM allows plastics processors to access information on all jobs at all levels on a single screen. Users can perform tasks from a control center with instant response drag and drop scheduling. The software allows users to instantly view late jobs, other workstations and tools available. Forward finite, queued and just-in-time scheduling is provided for all workstations and/or secondary operations. Production schedules can be based on sales orders, forecasts, release orders, electronic data interchange (EDI), manual assignments, consolidations and/or reorder points.

TMM also offers an optional module that allows for shop floor production monitoring for real-time inventory to minimize data collection activities. The production monitoring screen displays coded jobs and displays workstation status at a glance. Drag and drop workstations can be laid out to represent the user's plant.

Solutions for Inventory
Using TMM, plastics processors are able to gain complete control of inventories and keep production on track. Multiple units of measure are tied to each inventory item and are available at purchasing and sales order entry. TMM automatically calculates conversion quantities and relieves inventory in the base unit of measure. The software provides complete control over raw materials (including blends), assembled work-in-process, finished goods and other items. It offers multilevel pricing and maintains fixed and variable standards, averages and last costs of all inventoried items. TMM also features several options for the period-end inventory closeout process to match the way individual processors conduct business.

TMM allows users to project inventory flow by displaying future activity of items in purchasing, manufacturing and shipping. Users can view jobs from scheduling and advise customers on delivery of shipments. To provide processors who warehouse customers' inventories with complete visibility, TMM also offers an optional consignment inventory module. This add-on feature provides detailed knowledge of customers' inventories and allows them to easily transfer them to different locations. The module is fully integrated into sales, shipping, accounting and scheduling.

Solutions for Costing
TMM allows users to go directly from a product quote to the bill of manufacture (BOM) with a single click of a mouse. Users can develop an unlimited number of quotes for each customer and produce customizable automatic quote letters and quote reports. The software provides extensive "what if" quoting scenarios and items can be created in inventory and BOM to reduce data entry.
Also, quotes are stored and regenerated to quickly develop new quotations with "same as, except" capabilities.

Using the automatic product quoting function provides faster turnaround while ensuring an accurate basis for managing and comparing cost performance. Users can selectively update quote prices within the quotation system or by using TMM's mass change and update programs. Requotes can be based on varying changes in material prices, overhead, labor or workstation rates. Users can recalculate quotes with substitute raw materials and requotes can reflect actual or standard costs.

The BOM reduces data entry by integrating all information into quoting. It accurately establishes production standards and projects item costs for each of the processors' plant locations. Calculations are based on a broad range of variables and the costing model, which is designed to meet needs that are unique to plastics processors, accounts for regrind, scrap, purge and return of regrind to inventory. Update utilities allow users to mass copy multi-level BOMs, perform cost roll-ups, identify "where used," perform search and replace, and materials pass through. BOMs can also be saved to a history file for future reference.

Solutions for MRP Management
Through TMM's material requirements planning functionality, plastic processors can project the requirements for all materials based on scheduled production, sales orders and back orders. MRP permits the user to reduce the cost of on-hand inventory while ensuring critical materials are in stock to meet production schedules.

MRP reports inventoried and non-inventoried items, backorders, vendor lead-time information and blanket purchase order information. Queries display quantities on hand, demands for production or sales, outstanding purchase orders and vendor information.

Solutions for Data Mining
TMM saves plastics processors time by allowing users to run queries to quickly access filtered data in an easy-to-understand display. Data can be analyzed on-screen and drill-down features can be used to obtain further explanation.

More than 700 system report formats are available from TMM, many of which are configurable. With these ready-to-use reports, users simply select the data and date range to be displayed. User-friendly formats allow processors to easily add or remove information. A virtual print engine utility allows users to attach logos to documents and then attach those documents in any portion of TMM. Text can be customized by changing font size and color, and documents can be e-mailed via TMM's Microsoft® Outlook(TM) interface.

With TMM's executive information system (EIS), users can evaluate business performance by capturing the strategic and competitive value of their information services. As an enhancement to TMM's internal report writer, the ad hoc report writer in EIS delivers an integrated suite of business intelligence products and services.

The graphical analysis feature of EIS allows users to pull data from different files within the TMM database, MS Word, Excel or Access, and view data graphically. The balanced scorecard service allows users to measure, analyze and manage business performance. Using the exception alerts function of EIS, users can warn staff of events that require immediate attention by defining a situation that would cause a serious problem then execute the option to be informed of results. This can all be communicated via e-mail.

ABOUT DTR SOFTWARE INTERNATIONAL
DTR is an international leader in manufacturing, distribution and financial management software for plastics processors. Headquartered in Jacksonville, FL, DTR is a privately held company with sales in Canada, Mexico, the UK, Western Europe and the Asia-Pacific region. Launched in 1981, DTR's co-founders still lead the company's development. Since its formation, DTR has focused solely on enterprise resource planning (ERP) software for the plastics industry, with its signature product, The Manufacturing Manager(TM), currently being used by more than 3,400 users worldwide.