Softstarters communicate in multiple fieldbus protocols.
Press Release Summary: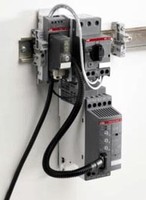 Incorporating FieldBusPlug communication system, PSR Series Softstarters are available in 3 sizes with widths from 1.77-2.13 in., covering rated currents from 3-45 A, up to 600 Vac, and with control voltages of 24 Vdc or 100-240 Vac. Devices include integrated by-pass, marked front panel with knob adjustments for 3 operational settings, and marked connection terminals. Cooling fan can be attached to increase starts from 10/hr to 20 starts/hr.
---
Original Press Release:

Look at Them Talk! - New Compact ABB PSR Softstarters Communicate in Multiple Fieldbus Protocols



(Via ABB's flexible FieldBusPlug, these compact, new softstarters make it easy for OEMs to communicate in the most popular fieldbus protocols.)

WITCHITA FALLS, TX, Wichita Falls, Texas, July 23, 2007 . . . ABB's new PSR model softstarters now communicate with factory-wide networks and other equipment - easily! The key to cost-effective communication in this compact 3-to-45 Amp OEM softstarter range is ABB's unique FieldBusPlug communication system. The system offers a high level of flexibility of communication in/with all the most popular fieldbus protocols.

"Unlike competitors' units, which are protocol-specific, these PSR softstarters are 'communication protocol-neutral'," notes Lorenz Eggenschwiler, who handles product marketing for the series. "This means these units can be ordered with a neutral fieldbus adapter, so that they are ready to communicate with DeviceNet, Profibus DP or Modbus RTU. Then, to avoid the excess cost of built-in, universal-translator hardware, an accessory FieldBusPlug simply is plugged in - and the PSR instantly can communicate with these protocols."

Cost-effective Flexibility
This ability to adapt to all the leading fieldbus protocols makes the PSR series an extremely cost-effective solution for OEM equipment designers, whose equipment must be adaptable to a wide range of industrial and commercial applications. "Our customers are asking for more monitoring and diagnostic capabilities on the smaller OEM controls," Eggenschwiler said, "and these features facilitate that market need."

Less Inventory, More Range, Via Wider Voltage Range
The wider operating voltage range of the PSR softstarter family also "provides a reduction in the cost of back-up inventory required to support multiple OEM applications for equipment," noted Eggenschwiler -- "less inventory, but more range." It also can reduce inventory needed for maintenance-critical, 100% uptime, and municipal- and process-control applications."

The PSR range includes three physical sizes, with widths from 1.77 -- 2.13 inches (45 to 54 mm), covers rated currents from 3 to 45 Amps, up to 600 VAC, and is available for control voltages of 24 V DC or 100-240 V AC. All sizes include a "Run" signal, while sizes from 25 to 45 A add a signal relay for "TOR" or full voltage. These can be attached to an automation control system to provide closed-loop control or operator indication. The PSR Softstarter has integrated by-pass, and a cooling fan can be attached to increase the starting capacity. Standard starts without the fan are 10 per hour; with the fan, 20 starts per hour are possible.

Faster Installation through Knob Adjustments
The new softstarter family has a clearly marked front panel with knob adjustments for the three operational settings (no programming is required). The connection terminals are clearly marked and an installation diagram is included to allow easy, fast, positive mounting and connection. The enclosure can be either DIN rail or screw mounted.

Safely Ramps Up or Down 3 Phase Motors
A softstarter ensures the smooth starting and/or stopping of AC motors by reducing the effective voltage. This facilitates reducing the in-rush current and the current required throughout acceleration to full speed or TOR. A soft starting of motor is popular with end users who want to improve equipment design reliability by eliminating the stress on drive train components typical with full-voltage starting methods. Applications where drive train reliability is critical include pumps, fans, mixers and crushers. Reduced voltage starting is important in conveyor applications where any initial start-up jolt would break fragile product or create a safety hazard; and in people mover applications like escalator, elevators and moving walkways.

The compact PSR Softstarter is an ideal design alternative for motor starting. When selected over other approaches, it provides control feedback, consistent acceleration, and improved drive component reliability. PSR Softstarters have been tested and approved for UL and CCC, includes the CE logo and meets the directives of RoHS.

ABB, Automation Products, Low Voltage Products & Systems is a leading manufacturer and supplier of controls products (http://www.abb.us/controlproducts).

ABB (www.abb.com)is a leader in power and automation technologies that enable utility and industry customers to improve their performance while lowering environmental impact. The ABB Group of companies operates in around 100 countries and employs about 108,000 people.


More from Packaging Products & Equipment