Soft Start limits heat pump starting current.
Press Release Summary: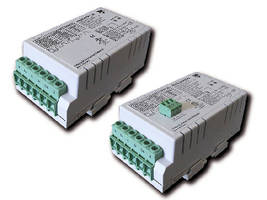 Designed for compressors rated up to 32 Arms, RSBS Series Single-phase Plug-and-Play Soft Start limits amperage demand, which peaks when single-phase scroll compressors are starting. Integrated current limit feedback ensures inrush current reduction to less than 40 Arms for compressors rated to 25 Arms and less than 45 Arms for compressors rated to 32 Arms. Complying with EMC Class B requirements, RSBS Series offers optional auxiliary alarm relay output for interfacing alarms to external panel.
---
Original Press Release:
Innovative Energy Conserving Heat Pump Soft Start
November 10, 2009 - Buffalo Grove, IL - Carlo Gavazzi has recently launched the RSBS Series Single-phase Plug-and-Play Soft Start, which reduces the starting current with heat pumps, which are most popular in residential installations. The RSBS soft start represents a solid innovation since it limits the amperage demand, which peaks when single-phase scroll compressors - usually used in heat pumps - are starting. By maintaining the starting current below fixed limits, the RSBS allows to avoid high energy tariffs. It also reduces heat dissipation, thanks to bypassing of its internal power semiconductors. The RSBS provides a 60% reduction in current and increases compressor lifetime. This new soft start extends the range of the already existing RSBS platform, to provide starting solutions for compressors rated up to 32 Arms. This product launch strengthens Carlo Gavazzi's leading position in the single phase heat pump sector. Furthermore, the RSBS Series is the specific, compact solution that allows OEMs to meet the regulations on starting current, imposed by energy suppliers. The RSBS Series complies with EMC Class B (residential) requirements and assures an inrush current reduction up to 60%. Additionally, it reduces mechanical stress on compressors, thus increasing their lifetime. The RSBS Series provides optimized performances for scroll compressors and has an optional auxiliary alarm relay output available. Some of the primary technical features include:
o Integrated current limit feedback ensures inrush current reduction to < 40 Arms for compressors rated up to 25Arms and < 45 Arms for compressors rated up to 32Arms
o Internal Semiconductor Bypassing for reduction of heat dissipation
o Several integrated diagnostic features to ensure safe operation at all times
o Complies with EMC Class B (residential) requirements
o Optional auxiliary alarm relay output for interfacing of alarms to an external panel The RSBS Series carries CE and cULus marks, which are your assurance of a high quality, tested, and safe product. It is available from Carlo Gavazzi's North American network of sales offices / distributors or www.GavazziOnline.com. Any questions regarding this press release should be directed to Rafal Pabich, Product Manager: 847.465.6100 x114 or rpabich@carlogavazzi.com Available in the U.S. from: CARLO GAVAZZI, 750 Hastings Lane, Buffalo Grove, IL 60089 Phone: 847.465.6100, Fax: 800.222.2659, Email: sales@carlogavazzi.com, Website: www.GavazziOnline.com
More from Printing & Duplicating Equipment