Soft Start Controller targets construction and OEM customers.
Press Release Summary: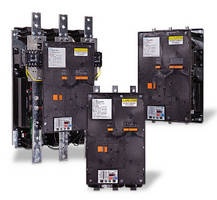 Available in open and enclosed configurations, Model S611 minimizes shock to mechanical components by gradually accelerating and decelerating load. Unit features integrated bypass as well as overload, undervoltage, overcurrent, phase loss, jam, and stall protection. Offered in 6 frame sizes for current ranges from 26-414 A, controller can take 230-600 V with power from 40-350 hp. It is rated to NEMA Type 1, 12, 3R, 4, and 4x with high-fault combination ratings up to 100 KA.
---
Original Press Release:

New Eaton Soft Start Controller Helps Construction and OEM Customers Improve System Reliability, Energy Efficiency



Pittsburgh ... Diversified industrial manufacturer Eaton Corporation is expanding its soft start controller solutions for construction and OEM customers. Gradually accelerating and decelerating the load, the S611 soft starter is designed to minimize shock to mechanical components, extend system life, increase reliability, reduce maintenance and lower energy requirements.

"The S611 reflects Eaton's commitment to providing products that deliver increased system reliability and performance," said Ram Tenneti, product manager at Eaton. "Combining advanced functionality, configuration flexibility and an elegant and sophisticated user interface, the S611 provides advanced system information so customers are better able to expedite commissioning and minimize downtime."

Featuring an integrated bypass and overload protection, the S611 reduces installation time and costs. Additionally, heating losses are minimized and the S611 design eliminates the need for an external contactor.

With a powerful and intuitive user interface, the S611 soft starter provides customers with overload, undervoltage, overcurrent, phase loss, jam and stall protection, and power monitoring capabilities. Customers can customize parameters to meet specific application requirements. The S611 is simple enough to use without requiring a manual, simplifying commissioning.

An open chassis design makes it easier to service the S611. The modular design approach minimizes downtime and improves service life.

With both open and enclosed configurations, the S611 is available in six frame sizes for current ranges from 26 to 414 amperes. It can take 230 to 600 volts with power from 40 to 350 horsepower.Additionally, the S611 is rated to National Electrical Manufacturers Association (NEMA) Type 1, 12, 3R, 4 and 4x with high-fault combination ratings up to 100 kilo amperes for the most rigorous application requirements. It also meets Underwriters Laboratories (UL) and Canadian Standards Association (CSA) standards, and is Restriction of Hazardous Substances (RoHS) compliant.

Eaton's electrical business is a global leader in power distribution, power quality, control and automation, power monitoring, and energy management products and services. Eaton is positioned, through its Cutler-Hammer, Moeller, Powerware, Holec, MEM, and Santak global electrical product series, to answer today's most critical electrical power management challenges.

Eaton Corporation is a diversified power management company with 2010 sales of $13.7 billion. Celebrating its 100th anniversary in 2011, Eaton is a global technology leader in electrical components and systems for power quality, distribution and control; hydraulics components, systems and services for industrial and mobile equipment; aerospace fuel, hydraulics and pneumatic systems for commercial and military use; andtruck and automotive drivetrain and powertrain systems for performance, fuel economy and safety. Eaton has approximately 73,000 employees and sells products to customers in more than 150 countries. For more information, visit www.eaton.com.

More from Packaging Products & Equipment