Soft-Seal Rotating Unions feature multi-passage design.
Press Release Summary: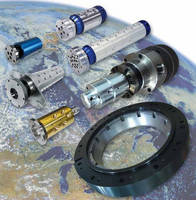 Used when more than one media must be conveyed simultaneously using different passages, multi-passage soft-seal rotating unions come in standard, semi-custom, and custom options. Standard products feature 2–8 passages, while custom passages, for largest applications, can be 22 or more. Port types include NPT, BSP, or SAE, and Plastomeric seal technology consists of plastic and elastomer combination with chemistry and geometry that differs by application.
---
Original Press Release:

Multi-Passage Soft-Seal Rotating Unions Now Available



WAUKEGAN, IL – A new product line of multi-passage soft-seal rotating unions is now available from Deublin Company. Rotating unions are components in a broad range of equipment applications that require connection between stationary supply lines, and rotating equipment including cylinders, rolls, spindles and clutches.



While rotating unions are used to convey virtually all types of liquid or gas (steam, water, coolant, hydraulic or cutting fluids, inert gas or vacuum), multi-passage rotating unions are used when more than one media must be conveyed simultaneously using different passages. Soft-seal refers to the Plastomeric seal technology, which is a combination of plastic and elastomer, with a proprietary chemistry and geometry that differs by application.



Applications for Deublin multi-passage soft-seal unions include machine tools, ladle turrets used in steel continuous casting, and metal coil winding, plastic and rubber manufacturing, and more.



Deublin offers standard, semi-custom, and custom options depending on the requirements of each application. Standard features include 2-8 passages, while custom passages for the largest applications can be 22 or more. Port types include NPT, BSP, or SAE.



A new brochure is available in print (request MPSS142 US), or via the Deublin website: www.deublin.com/product-support/request-a-catalog/.



Founded in 1945, DEUBLIN Company is the leading manufacturer of precision rotating unions for water, steam, air, hydraulic, vacuum, coolant and hot oil service. With manufacturing or sales office in 17 countries worldwide, DEUBLIN international headquarters are located at 2050 Norman Drive, Waukegan, IL  60085-6747 USA  Phone: 847.689.8600  Fax: 847.689.8690 www.DEUBLIN.com

More from Laboratory and Research Supplies and Equipment