Sockets accommodate 84- and 92-pin BCC packages.
Press Release Summary: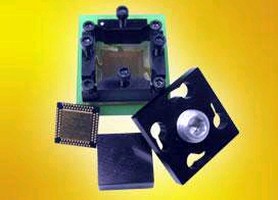 Designed for 0.5 mm pitch devices, Models SG-MLF-7012 and SG-MLF-7014 operate at bandwidths up to 10 GHz with less than 1 dB of insertion loss. They dissipate up to several Watts without extra heat sinking and can handle up to 100 W with custom heat sink. Operating from -35 to +85°C, sockets feature pin inductance of 10.15 nH, contact resistance of 23 mW per pin, and capacitance to ground of 0.10 pF.
---
Original Press Release:

High Performance Socket for 0.5mm Pitch BCC Packages



Socket your 84 and 92 pin BCC packages without significant performance
loss and with minimal increase in PC Board footprint

BURNSVILLE, MN - January, 2007 - Ironwood Electronics has recently introduced two new high performance BCC sockets for 0.5mm pitch devices. The SG-MLF-7012(for BCC84), SG-MLF-7014(for BCC92) sockets are designed for a 7X7 or 8X8 mm package size, operate at bandwidths up to 10 GHz with less than 1dB of insertion loss. The sockets are designed to dissipate up to several watts without extra heat sinking and can handle up to 100 watts with custom heat sink. The contact resistance is typically 23 milliohms per pin. The socket connects all pins and the optional center power pad with 10+ GHz bandwidth on all connections.

The SG-MLF-7012 and SG-MLF-7014 are constructed with high performance and low inductance elastomer. The temperature range is -35 C to +85 C. The pin inductance is 10.15 nH. Capacitance to ground is 0.10 pF. The socket accommodates IC packages such as:

1. ASE, 84L BCC+ 7x7x0.8mm, 0.5mm pitch (dual row with interstitial pads)
2. ASE, 92L BCC+ 8x8x0.5, 0.5mm pitch (dual row with interstitial pads)

Pricing for the SG-MLF-7012 $321 at qty 1; SG-MLF-7014 $351 at qty 1 with reduced pricing available depending on quantity required.

Ranjit Patil
11351 Rupp Dr.
Suite 400
Burnsville, MN 55337
Tel: 952-229-8200 or (800) 404 - 0204
Fax: 952-229-8201
info@ironwoodelectronics.com
www.ironwoodelectronics.com

More from Electronic Components & Devices