Socket Set provides tight grip for spark plug changes.
Press Release Summary: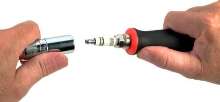 Spark Plug Socket Set, Model 2005SPS features self-centering, tapered hex design that provides secure manipulation and release of spark plugs, while eliminating need for rubber inserts, magnets, or springs. Set includes 9/16 and 5/8 in. hex standard length sockets, as well as 5/8 in. hex universal retention socket. Six inch, quick-release locking extension provides extra reach, while medallion gap gauge offers accurate measurements. All are ANSI compliant.
---
Original Press Release:
Snap-on® Socket Set Provides Tight, Secure Grip for Spark Plug Changes

Patented Tapered Hex Design Securely Retains Spark Plugs

KENOSHA, WIS., June 30, 2004 - Changing spark plugs has never been quicker or easier with the new Snap-on Tapered Hex Spark Plug Socket Set (2005SPS), featuring the company's patented self-centering tapered hex design for secure manipulation and easy release of spark plugs.

The sockets' tapered hex design eliminates the need for rubber inserts, magnets or springs for securely holding on to spark plugs during removal and installation procedures. The tool's unique easy-release feature allows technicians to apply side pressure and easily remove the spark plug from the socket. A slim external hex design enables use in confined areas, and the knurled surface provides an easy grip.

The Tapered Hex Spark Plug Socket Set includes the new 9/16- and 5/8-inch hex standard length sockets (S9716KR, S9706KR), as well as the 5/8-inch hex universal retention socket (S9706KRFU). A six-inch quick-release locking extension (FXKL6) provides extra reach and a convenient medallion gap gauge (FB361A) offers fast and accurate measurements. All sockets comply with the American National Standards Institute.

The 9/16-inch sockets are suited to newer Ford Mustang and Ford F150 small truck models that are powered by Ford three-valve engines. The 5/8-inch sockets provide an accurate fit for most automobiles, light trucks, motorcycles and power equipment.

Customers can find out more about the Tapered Hex Spark Plug Socket Set from Snap-on Tools Company by contacting their local Snap-on representative, visiting www.snapon.com after August 15, 2004 or calling toll free 877-SNAPON-2 (877-762-7662).

Snap-on Tools Company is a subsidiary of Snap-on Incorporated, a leading global developer, manufacturer and marketer of tool and equipment solutions for professional tool users. Product lines include hand and power tools, diagnostics and shop equipment, tool storage products, diagnostics software and other solutions for transportation service, industrial, government, education, agricultural, and other commercial applications, including construction and electrical. Products are sold through its franchisee dealer van, distributor channels and company direct sales, including snapon.com. Founded in 1920, Snap-on Tools is a $2+ billion, S&P 500 company headquartered in Kenosha, Wis., and employs approximately 12,700 worldwide.
More from Food Processing & Preparation