Socket Mobile Products Ready for iOS 12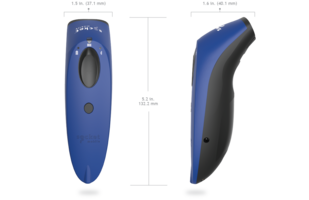 - October 15, 2018 -  
NEWARK, Calif., October 15, 2018 – Socket Mobile, Inc. (NASDAQ: SCKT), a leading innovator of data capture and delivery solutions for enhanced productivity, is announcing all Socket Mobile products, including the newly updated Capture SDK, are in full compatibility with iOS 12. Socket Mobile devices offer great programmability for app providers who want to build deeper scanner integration into their business workflow.
Socket Mobile's Capture SDK enables Apple®, Android and Windows® application developers to create custom or commercial mobile data collection solutions, making data entry more reliable and accurate, ensuring better control over the user experience, supplying a durable solution and eliminating the support call due to user errors. A single integration of the Socket Mobile SDK provides universal support for Socket Mobile data capture products, giving customers the opportunity to select the data capture products that work best for them and retain the ability to upgrade at any time. Socket Mobile supports a compelling portfolio of enterprise solutions, with more than 800 business applications published in the Apple App Store and the Google Play Store. 
"We are dedicated to make sure our devices and Capture SDK work seamlessly with latest platform upgrades. With new features and performance improvements in iOS 12, it's a good opportunity for our developer community to upgrade their apps and migrate to Capture SDK.  Apple has also made a huge push in advancing NFC technology support in iOS 12. Our D600 RFID reader/writer, combined with Capture SDK, provides a unique solution the market has been waiting for," said Long Pan, Senior Software Product Manager.
About Socket Mobile 
Socket Mobile is a leading provider of data capture and delivery solutions for enhanced productivity in workforce mobilization. Socket Mobile's revenue is primarily driven by the deployment of third party barcode enabled mobile applications that integrate Socket Mobile's cordless barcode scanners and contactless reader/writers. Mobile Applications servicing the specialty retailer, field service, transportation, and manufacturing markets are the primary revenue drivers. Socket Mobile has a network of thousands of developers who use its software developer tools to add sophisticated data capture to their mobile applications. Socket Mobile is headquartered in Newark, Calif. and can be reached at +1-510-933-3000 or www.socketmobile.com. Follow Socket Mobile on Facebook and Twitter @socketmobile and subscribe to SocketTalk  the company's official blog.
More from Controls & Controllers