Socket Fusion Tooling Kits facilitate contract work.
Press Release Summary: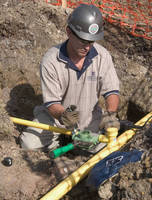 Socket Tooling Kits provides contractors with Multi-Mc(TM) heater, heater sling, heater adapters, ratchet shears, chamfer tools/depth gauges, spare chamfer blade, and cold ring tools. Supplied in specially designed tool box with custom tray to hold components, kits help contractors perform focused work in diverse industries. There are 8 kits available, consisting of equipment geared to specific ranges of fitting sizes and heater voltage requirements.
---
Original Press Release:

McElroy Creates Eight Comprehensive Socket Fusion Tooling Kits



Kits include key components at a cost savings to customers

TULSA, Okla. - McElroy's new Socket Tooling Kits are set to simplify the work lives of contractors. The kits offer contractors an opportunity to purchase a complete tooling set that includes a Multi-Mc(TM) heater, heater sling, heater adapters, ratchet shears, chamfer tools/depth gauges, spare chamfer blade and cold ring tools.

By offering a complete kit, McElroy was able to put the kits in a specially designed tool box with a custom tray to hold the components. The Socket Tooling Kits incorporate a price break over ordering each piece of tooling equipment a la carte.

Socket tooling is designed for socket fusion procedures. Socket fusion is a popular technique for fusing high density polyethylene (HDPE) pipe fittings in ½-inch copper tube size (CTS) to 4-inch iron pipe size (IPS) pipe sizes (16mm to 125mm).

"The new Socket Tooling Kits are a great opportunity for contractors that perform focused work, whether in the geothermal, irrigation, gas or other industries, to buy a kit that has tooling in the pipe sizes they deal with on a day-to-day basis," said Chip McElroy, president and chief executive officer of McElroy.

Eight kits are available that consist of equipment geared to specific ranges of fitting sizes and heater voltage requirements. The four size range options include a ¾-inch to 2-inch IPS; 1/2-inch CTS to 2-inch IPS; 3- and 4-inch IPS; and ¾-inch to 1¼-inch IPS. After choosing the appropriate size range, contractors can choose either a 120- or 240-volt Multi-Mc heater.

For more information, visit the McElroy website at www.mcelroy.com.

About Pipe Fusion:
Pipe fusion is a widely accepted process that joins two pieces of thermoplastic pipe together with heat and pressure. Commonly associated with high-density polyethylene pipe (HDPE), the butt fusion process starts by "facing" or shaving the pipe ends simultaneously so that they can be joined together with heat to create a continuous, sealed pipeline. The welding of the pipes is accomplished by using a hot plate in contact with the pipe ends, which heats the plastic to a molten state. Then, after its removal, the ends are pressed together under a controlled force to form a weld that is as strong as or stronger than the pipe itself. Third-party industry research indi-cates that HDPE pipe and joints can have a lifespan of more than 100 years.

For more information, contact
McElroy PR and Marketing Department
Tyler Henning, public relations specialist
Phone: (918) 831-9286
E-mail: thenning@mcelroy.com

More from Architectural & Civil Engineering Products